Posts tagged "Sports Offer Letter"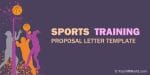 The proposal letter for sports training is written by the training supervisor and is addressed to the sports candidate to whom the supervisor will be training. Like any other sample proposal letter, this proposal letter for sports training is a precise and specific letter that talks about fitness training in sports from the supervisor. The request letter for sports training also includes all the details of the training course along with the importance of the training.
Shared in this post is the sports training proposal template that can be used by the supervisor for creating a personalized letter depending upon the subjective needs.
Sample Proposal Letter for Sports Training Template – Format, Example
From,
Sam Hobbs
Sports Training Supervision
Allen Sports Academy
New York
Date: December 04, 2021
To,
Mr. Adam Jobs
12/1, Anthony Road
New York
Sub: Proposal Letter For Training
Dear Mr. Adam,
I, Sam Hobbs, am writing this letter to personally inform you that I have been chosen to provide you the official training for the States Sports Competition 2022 that is scheduled to be held in California in the month of March, 2022. I am happy that you have been selected from thousands of students for this event and by being a part of this sports fitness program, you will be able to work on yourself and prepare yourself to bag a position at the event.
Being the Sports Training Supervision, I have drafted a customized training program for you but it is incomplete without your support. We will be focusing on training you for a period of six months which will start from January 1st, 2022. During this time, you will be staying at the academy and will be rigorously involved in sports and fitness training that is required for the game. I have attached a detailed description on the training program with this proposal for you to have a look and understand the kind of training we are aiming at.
I am hopeful that you will bring success to your college by putting in your time and dedication. I strongly feel that you have the potential and by working together, we can create history.
Looking forward for a positive response from your end.
Regards,
Sam Hobbs
Sports Training Supervision
Allen Sports Academy
New York
Other Related Letter Formats
Letter Of Intent for Business Proposal
Canteen Proposal sample format
Business Tie Up Proposal Letter Format
Invitation Letter to Employees of Company for Friendly Cricket or Football Match
Sample of offer letter for trainee in sports quota in word Format.
Mr.Anuj Kothari                                                              14/05/2013
Kaveri Nagar,
Chandwali(West),
Navi Mumbai.
LETTER OF OFFER
Dear Mr. Anuj,
We take this opportunity to welcome you to (company).
This is in reference to your application form dated (date) and the brilliant interview session that followed on the same day. The management is glad to offer you the employment as a 'Trainee' on behalf of (trainee).
You will be posted in the (department) division of our organization based at Mumbai H.Q.
Upon joining you will become a part of our family. Your play program will be divided into four levels as mentioned below:
Level 1: Training:
The first level will last for a minimum of 6 months but is subjected to change depending on your performance. You will have to play this game at our Mumbai H.Q. However, you are allowed to quit playing by forwarding a 24 hours prior notice to the gaming authorities. Also at the same time if the gaming authorities find your performance unsatisfactory they hold every right to disqualify you with a similar notice.
Level 2: Probation:
You will be qualified for probation only after completion of level one. This level will also last for 6 months only to help you maintain the required efficiency and consistency. Your will be gifted with bonus points and money as per the instructions in the gaming Annexure attached to the mail. Furthermore, your online gaming expenses will be reimbursed under the maximum limit specified in Annexure __________ enclosed.
Level 3: Confirmation:
Your satisfactory performance and score earned in level 2 will qualify you for the third level.
Level 4: Achieving Work Objectives:
Similarly other progressive levels are strictly dependent on the basis of your performance in level 4.  Continuous and   timely efforts are highly expected of you to qualify for this level.
However, you require becoming a registered member with us if you want to be a part of the game. You will need to complete the following formalities with your ***/***:
2 sets of P.F Nomination Form
Filled ESIC Declaration Form with joint postcard size photographs with your family.
Xerox copy of PAN Card. In case you do not have one, you may submit your duly filled PAN Application Form.
Your appointment letter will be processed post completion of these formalities. The same will act as entry pass for the game.
We expect you to join in the game at the earliest and send us your confirmation on or before 25th May, 2013. No further application will be accepted post the mentioned date unless we unleash a new date in writing.
Kindly return the enclosed copy duly signed as your acceptance of the game and the rules stated.
We believe that your knowledge, skills and experience well prove fruitful for our game. We will further make sure that our support for your professional development and growth will reflect in your Game Score.
Yours faithfully
For Anosmatic Pvt LTD
PERSONNEL MANAGER
Click Here To Download Sports Offer Letter
Search Sample Formats: