Posts tagged "Accounts"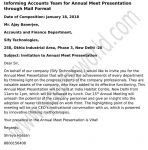 A professional get together purposed to exchange ideas and innovations in the business sector; Annual Meet Presentation unleashes the requisite understanding of growth prospects. It allows senior professionals to put a spotlight on the achievements in varied department's productivity and plans to enhance productivity in the near future through work email templates to accounts team. Certainly, it has to be professional email templates mailed to the colleagues at all levels. This is a formal invitation for the accounts team.
Format:
Date of Composition: January 18, 2018
Mr. Ajay Banerjee,
Accounts and Finance Department,
Sify Technologies,
258, Okhla Industrial Area, Phase 3, New Delhi -20
Subject: Invitation to Annual Meet Presentation
Dear Sir,
On behalf of our company (Sify Technologies), I would like to invite you for the Annual Meet Presentation that will unveil the achievements of every department by throwing light on the progress reports of the company professionals. They are valuable assets of the company, who have added to its effective functioning. This Annual Meet Presentation will be held at India Habitat Centre, New Delhi from 11am to 1pm, which will be followed by lunch. Our 15th Annual Meeting will unleash the potential of the company personnel and give an insight into the adoption of newer technologies on work front. The highlighting point of the meeting will be our CEO's motivational conversation with us, which is powered by innovative thinking methodologies.
Your presence in the Annual Meet Presentation is Vital!
Regards,
Shreya Hassan
8800156408
Click here to Download Informing Accounts Team for Annual Meet Presentation through Mail in Word Format
Sending your resume with a finely finished cover letter always earns you extra points. When applying for a position as an Accounts payable specialist, it is important that you create a good impression by attaching a professionally drafted cover letter with it. This will surely help you earn an appointment for the desirable job.
Find a reference example format of cover letter given below which has been designed keeping in mind the job profile. It can be easily customized for your personal use.
Sample Cover Letter for Accounts Payable Job
Mike Brown
52, Adams Street,
New York
Email: [email protected]
Phone: 123-45678
Date: 14th, November, 2014
Jenny Adam
ABC Accountants Inc.
Richmond Street
New York
Dear Ms. Jenny Adam,
This is in response to your advertisement for the position of Accounts Payable Clerk in your company, ABC Accountants Inc. I would like to present myself for this job. Please find my resume enclosed with this letter.
I have an experience of 5 years working with XYZ Finances in the field of accounts and finance. I strongly believe that I am a wonderful candidate for this position.
I possess rich knowledge, experience and qualifications in the field of finance which makes my understanding and grasping of different financial issues quite good. I am also compatible working on different accounting software packages available in the market.
I possess an established record in fulfilling all kinds of financial and clerical duties. I have always known for my extraordinary ability to meet and exceed targets and deadlines because of my smooth working. I do not hesitate from working under pressure and I am always open for new learning opportunities and challenges at work.
Other strong traits of my personality include good communication and organization skills which make me a good team worker. I like to be an asset to my organization.
I would welcome the opportunity of an interview to further a chance to discuss my potential suitability to this position with your company. I look forward for your reply.
Thank you for consideration.
Yours sincerely,
(Signature)
Mike Brown
Professionally drafted cover letters are very important for creating the first impression with your resume. Make sure when you send your CV for a job of accounts assistant with no experience, you include a smart and crisp cover letter which states your potentials and abilities along with asking the reader to arrange for an interview in a polite and elegant manner.
Here is a sample example given for your reference. Use it to create a customized draft to mark that important first impression on the employee.
Format for Cover Letter for Accounts Assistant with No Experience
Alice Brown
1128 Thompson Street
Los Angeles
Phone: (222)-265-8701
[email protected]
Date: 13th, November, 2014
Mr. John Samson
Seven Hills Accountants Pvt. Ltd.
1234 Winifred Way
Greencastle
Dear Mr. John Samson,
I would like to express my interest in the profile of Accountant Assistant position in your company, Seven Hills Accountants Pvt. Ltd. This opportunity would be an ideal match for my skills which will give me a chance to learn from one of the best and most experienced accountants in the city.
Though I don't possess any of working as an Accountant Assistance but my resume speaks of my potential and my academic performance. I have ranked top in subjects like Business Administration and Financial Accounting. I am also very familiar with working on the most recent Accounting programs and software. I also possess a decent knowledge of bookkeeping, payroll and working with vendors which was a part of my internship.
I am blessed with an analytical minded. I am efficient in concentrating on the tasks at hand to deliver accurate results on time. I also possess excellent communications skills. I fully understand the need for confidentially in our professional and always maintain strong code of ethics in my working.
I would really like to meet you in person and discuss my abilities. In case, you find me the right candidate for the job, you can reach me at (222)-265-8701 anytime.
Thank you for your time.
Sincerely,
Signature (hard copy letter)
Alice Brown
Other Related Post to Experience Letters
Application Letter for Any Position Without Experience
Relieving Letter Format from Employee to Company
Work Experience Letter for Green Card
Cover Letter Sample for High School Student With No Experience
Sample Experience Certificate Format
Job Experience Certificate Format
Difference Between Experience Letter and Service Certificate
Relieving Cum Experience Letter
Simple Work Experience Letter
Cover Letter for Teaching Position with Experience
Letter to Employee for Recovering Training Expenses of Company
Search Sample Formats:
HSA is a tax-free account that can be used by employees to pay for qualified medical expenses. Contributions do not have to be spent the year they are deposited.
Money in the account earns interest and accumulates tax free, so the funds can be used now and in the future.
If an employee leaves the job, he or she can take the account with him or her and continue to use it to pay for qualified healthcare expenses.
To be eligible for a Health Savings Account, an individual must be covered by a High Deductible Health Plan (HDHP), must not be covered by other health insurance (does not apply to specific injury insurance and accident, disability, dental care, vision care, long-term care), is not eligible for Medicare and can't be claimed as a dependent on someone else's tax return.
Click Here To Download Health Savings Accounts