Posts tagged "presentation"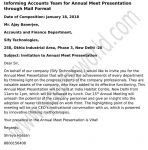 A professional get together purposed to exchange ideas and innovations in the business sector; Annual Meet Presentation unleashes the requisite understanding of growth prospects. It allows senior professionals to put a spotlight on the achievements in varied department's productivity and plans to enhance productivity in the near future through work email templates to accounts team. Certainly, it has to be professional email templates mailed to the colleagues at all levels. This is a formal invitation for the accounts team.
Format:
Date of Composition: January 18, 2018
Mr. Ajay Banerjee,
Accounts and Finance Department,
Sify Technologies,
258, Okhla Industrial Area, Phase 3, New Delhi -20
Subject: Invitation to Annual Meet Presentation
Dear Sir,
On behalf of our company (Sify Technologies), I would like to invite you for the Annual Meet Presentation that will unveil the achievements of every department by throwing light on the progress reports of the company professionals. They are valuable assets of the company, who have added to its effective functioning. This Annual Meet Presentation will be held at India Habitat Centre, New Delhi from 11am to 1pm, which will be followed by lunch. Our 15th Annual Meeting will unleash the potential of the company personnel and give an insight into the adoption of newer technologies on work front. The highlighting point of the meeting will be our CEO's motivational conversation with us, which is powered by innovative thinking methodologies.
Your presence in the Annual Meet Presentation is Vital!
Regards,
Shreya Hassan
8800156408
Click here to Download Informing Accounts Team for Annual Meet Presentation through Mail in Word Format
Uploading Succession Planning Presentation.
Kindly check this presentation.