Posts tagged "Completion of Project"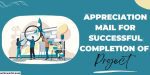 When a project gets completed, it is always a sweet gesture to appreciate the ones who have been involved in completing it. And in doing so, you would need an appreciation mail format. The appreciation mail example makes a perfect way to write an employee appreciation email.
If you wish to write one such mail then here is an appreciation mail sample. You can use the appreciation email template for creating a personalized email.
Appreciation Mail Format for Project Completion
Dear All,
Congratulating you all on successful completion of the project. As you all are aware that it was one of the most prestigious projects for our company and you all have worked really very hard to complete it within the time limit and make it a great success for all of us. We highly appreciate you for all the efforts and time you all have put it. We are aware that many of you had to work extra time for weeks so that we are able to fall within the deadlines.
We are grateful to all the team members who were involved in the project and we highly appreciate your hard work.
Regards,
Bob Harley
Other Related Post to Appreciation Emails
Sample Employee Appreciation Letter
Letter of Appreciation on Completing Years of Service
Letter of Appreciation for Years of Service
Appreciation Mail for Achieving Targets
Appreciation Mail to Team Member for Good Work
Appreciation Mail to Team Member for Good Work
Appreciation Mail for Going Beyond