Posts tagged "Request Letter"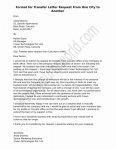 If you wish to move from one place to another and you don't want to leave your present company then you can always write a transfer letter to the HR Manager submitting your job transfer request letter for personal reason. This is a formal way of submitting your request by stating reasons because of which you are writing letter of request for transfer of workplace. Such letters are very much to the point and help you explain your part with no room for confusion.
We have a job transfer request letter example. Use this sample transfer letter format from one place to another to submit to your HR.
Format for Transfer Letter Request From One City to Another
From
Anita Sharma
52, Gandhi Apartments
Bose Road
Calcutta
Date: 14.04.2017
To,
Rohini Goyal
HR Manager
Crown Technologies Pvt. Ltd.
89, Simon Plaza
Calcutta
Sub: Transfer letter request from Calcutta to Delhi.
Dear Rohini,
I would like to submit my request for transfer from Calcutta office of our Company to Delhi office. There are a few personal reasons because of which I am initiating this request. My husband has been transferred to Delhi and that's the reason I am putting up this request. I have been associated with Crown Technologies Pvt. Ltd. from last five years and I have had an amazing work experience and I would not want to discontinue it.
I strongly feel that this change of workplace will be in the interest of my personal life and also the Company as it will save my time traveling to Delhi to meet my husband and I will be able to focus better on my duties and responsibilities. I feel that instead of leaving the company, just with a change of city, I can still be a part of this prestigious organization.
For all these years, you have seen my performance and the growth that I have achieved with the guidance of seniors and my dedication. I would be very interested in continuing working with Crown Technologies Pvt. Ltd. and contributing in the growth.
I would be extremely happy if we can work out on a solution that is mutually beneficial to the company and me. I would be glad to assist and train someone else for my profile in Calcutta office so that the work doesn't get affected. I promise to extend the best of my support in this.
I have had a wonderful journey with amazing experience and I would love to continue that for longer.
I thank you for considering my request. I would be waiting for your response.
Sincerely,
Anita Sharma
Senior Marketing Executive
Crown Technologies Pvt. Ltd.
Click Here to Download Request Transfer Letter From One Place TO Another
If you are leaving your college due to any reason, you must write an application letter for leave certificate to the authorities. This application must contain the reason because of which you are leaving the college along with requesting for leaving certificate because to take admission in any other college, leaving certificate is an important requirement.
If you don't know how to frame such a letter then given below is a format for application letter for leaving certificate which has been designed to help you create a formal personalized draft with all the details.
Sample Application Letter For Leaving Certificate
Mathew Brown
A-42, Park Avenue Street
New York
Date: 13th June, 216
To,
Sheila John
Principal Director
University of ABC
Canada
Subject:  Application for College Leaving Certificate.
Dear Sir,
I, Mathew Brown, am a student of Engineering in your college. I would like to inform you that I had applied for admission in Oxford University for studies and by the grace of God, I my application for admission have been accepted along with scholarship. To confirm my admission, I have to leave for London at the earliest. I would like to share with you that I will no longer be able to continue my studies with your esteem college. I was honored to be associated with your prestigious institution and I am sure you will understand that I cannot afford to miss the wonderful chance to study in Oxford that too with scholarship.
I request you to kindly issue me the college leaving certificate at the earliest so that I can move ahead with my admission process.
Thanks for your consideration and time.
Yours sincerely,
Mathew Brown
1st Year, Engineering Department
If you think that you deserve a promotion or your promotion has been pending since long then writing a formal letter to the Manager seeking promotion is the right thing to do. You must send a professional request letter to the management in order to have a direct communication channel in which you talk about reasons for which you deserve a promotion.
Here is a sample format of promotion request letter to the manager which can use for creating a personalized letter with necessary information.
Sample Request Letter To Manager For Promotion
Adam Smith
22, Richmond Street,
New York 1234
Date: 08th Feb, 2016
Jacob Brown
Human Resource Manager
ABC Corporation Pvt. Ltd.
52 Richmond Street
New York
Sub: Request for seeking promotion.
Dear Mr. Brown,
This is to bring to your notice that from last three years, I have been working on the profile of Sales Executive with the company. For all this duration, I have met my targets and delivered impressive performance which has helped me earn good performance appraisal by my team head. I am writing this letter to request promotion to a higher position in the organization as I believe that for all these years, I have learned well about working which makes me competent to head a team.
I have been a part of the core sales team of the company and have broken prior sales records with my hard work and dedication. All my achievement and contributions have been mentioned in the enclosed resume. A promotion at this point in time will infuse me with immense motivation as it would be your way of acknowledging and considering my inputs.
I am looking for a positive response from your end. Please find my resume attached with the letter along with the list of contributions to different sales projects of which I was a part. I would be honored to discuss my promotion request with you at any time when you are comfortable. You can email me at adam@abc.com or you can call me at 123-456-789.
Looking forward for your response.
Thanking you.
Sincerely,
Adam Smith
If you are working with some company and wish to request a transfer then the right procedure demands writing a formal transfer request letter either to the HR manager of your company or to the owner of your company. In such a letter, you must mention the reason because of which you want to be shifted to a different location or the department. Make sure that the reason you state is reasonable and logical so that the management considers your request and approves it.
Here is a format sample of transfer letter to another location which is a professional way of submitting a request for transfer in written. Use this template to create your personalized draft following the right format and flow of content so that your request is considered by the company. Read on and find out how to frame such a letter
Sample transfer letter to another location
John Smith
11, Park Avenue,
New York
Date: 6th August, 2015
To,
Jacob Brown
HR Manager
ABC Corporation Pvt. Ltd.
52 Richmond Street
New York
Dear Mr. Brown,
I have been working with the New York branch of the company from last six years. It has been an amazing experience working with such a reputed company. But now I am looking for a transfer to the California branch of ABC Corporation Pvt. Ltd.
The reason because of which I am requesting a transfer is because my wife has got a new job in California and she is really keen on grabbing this wonderful opportunity. Because that company doesn't have any offices in New York, therefore, moving to California is the only option.
I have always enjoyed my job and the work environment at ABC Corporation Pvt. Ltd. which is why I would love to continue working for the company but at a different location. I think it is in the best interest of myself and the organization that I relocate to the California branch and resume my working from there as I is not feasible for me travel to and fro every weekend. I would always want to stay associated with the company and offer the best of my services.
I really hope that we are able to work out on a mutually beneficial solution for this problem so that I can continue with my job with ABC Corporation Pvt. Ltd. without any hindrances.
Thanks for considering my request. In case, you require any more information in relation with my request for relocation, please feel free to contact me at 123-456-78 or you can also mail me at john@abc.com.
Looking forward for your reply.
Yours sincerely
John Smith
When you get transferred to a new location, you take time to settle down in a new setting. But sometimes despite making all the efforts you are unable to deal with the changes because of various external factors. If you are a lady and you have been transferred to a location which offers no security to women or it doesn't offer the basic facilities needed by your gender then you must request your employer in writing to transfer you to some other location.
If you don't know how to begin writing such kind of a letter then follow the example sample given below which addresses the insecure atmosphere at new working place which is making inconvenient and uncomfortable for you to work as you are a lady.
Format for Transfer Request Letter For Difficult Working Conditions
Julia Mars
11, Park Avenue,
St. George Village
Date: 13th July, 2015
To,
Mathew Jacob
HR Manager,
XYZ Development Bank
42 Richmond Street,
New York
Dear Sir,
This is to bring to your notice that I, Julia Mars, was transferred to remote location close to St. George Village on the position of Accountant on 1st June, 2015.
The purpose of writing this letter is to make you aware about the living conditions at this location which is at a distance of 15 kms from the closest village. As you know, it is a remote location which does not offer any transport facilities to commute. Moreover, there is no security for women working at this location as it is quite an unsafe area for women. In this span of one month, I had to face difficult situations at this location which have adversely affected my working. And as I am staying alone, it is becoming very difficult for me to manage living at this location.
I also want to bring to your notice that this place doesn't even offer basic amenities like electricity and water which have added to the problem. There are frequent power cuts on regular basis. Till date, I have not been able to find a decent place to stay at this place. Because of such difficult living conditions, I am really facing a tough time because of which I am unable to give my best at work.
I would like to request you to please consider my situation and transfer me to a better place where I can find a decent place to live and women security is not an issue. For this one month, I tried my level best to adjust with the living conditions at this place but all my efforts have failed and I am compelled to write a transfer request letter to you.
I hope you will consider my situation and come up with a solution at the earliest. If you wish to anything else from me, please feel free to contact me at 123-456-78 or you can email me at Julia@abc.com.
Thanking in anticipation.
Yours sincerely,
Julia Mars
Accountant,
ABC Development Bank
St. George Village
It happens so often that there is some emergency situation in the family and you are required to be with your family members to handle the situation. It becomes a little difficult to strike a balance between the responsibilities at work and the responsibilities of your family. In such a scenario, all that you can do is write a professional family emergency leave letter which consists of all the reasons because of which you need an immediate leave in order to inform your employers about the situation.
Family Emergency Leave Request Letter Sample
From,
Mathew Brown
A-42, Park Avenue Street
New York
Date:26th February 2015
To,
Sheila John
Marketing Manager
Amazing Technologies
1234 Park Avenue Road
New York
Dear Mrs. Sheila John,
This is to inform you that I am compelled to take an urgent leave due to some emergency situation in my family. My wife just called me to tell that her father has just collapsed because of cardiac arrest and he has been taken to the hospital. So I need to go to the hospital right away so that I can be there with my family. I will try to resume my work as soon as possible and will inform you about the status of the leaves I need one my father-in-law's medical condition is clear.
I have explained all the details about my current project to my co-worker Mr. David Smith so that the project doesn't suffer from any loss. I will also be available on phone, if in case there are any queries. My work record explains that I have been a dedicated employee of the company and I will never let the company bear any losses because of my absence.
I can be contacted during my leave via telephone at 123-45678 and email at mahew@email.com. Please leave me a message if case there is any questions or queries and I will respond them at the earliest. I thank you for considering this emergency leave as I need to leave urgently to be with my family. And I will make sure that I resume the work at the earliest and take charge of my responsibilities at work.
Thanking in anticipation. Looking forward for your response.
Yours sincerely,
Mathew Brown
Project Manager
Amazing Technologies
When you are getting married, you need to convey to your boss using a formal marriage leave letter that because you are getting married, you need to take break from work for a few days to make all the necessary arrangements for your wedding. The most important thing in such a request letter is that you need to address it to the right person and include all the essential information like the number of days you will not be present at work along with the dates.
Here is a sample leave request letter for marriage to help you write your own personalized draft asking your boss to grant you with desired leaves for one of the most important events of your life. Use it as reference for writing your perfect formal request.
Sample Leave Request Letter for Marriage
Margret Smith
129 Jackson Road
New York
Date: 24th February, 2015
To
Simon Jones
CEO, ABC Corporation Pvt. Ltd.
Adams Street,
New York.
Dear Mr. Jones,
I hope that you have already got my official wedding invitation. I would like to make a request for official leave to make all necessary preparations for my marriage and honeymoon. As you know that my marriage is scheduled on 23rd February, 2015, I request you to please grant me a leave for 15 days from tomorrow i.e. from 19th February, 2015 till 5th March, 2015.
I have discussed about my leave with my immediate senior and team leader, Mr. Andrew Cullen. He has agreed on my leave. It is agreed that I will be completing all my responsibilities before I leave and during this phase if there in any emergency then it will be handled by my co-workers.
I request you to kindly take this request into consideration. I also request you to be present at my marriage ceremony.
Thank you for your cooperation.
Yours sincerely,
Margret Smith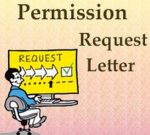 Whenever you are planning to interview some personality then the official way of going about it is seeking permission to interview by writing a formal request letter. Such a letter should contain the reason for which you wish to interview the person, the estimated time for which you need to interview him and the number of questions you have to ask. This makes your request letter complete and informative leaving no room for any kind of doubt.
So refer to the sample given below and create a personalized letter seeking permission to interview in a professional way.
Sample Request Letter for Permission to Interview
Samantha Brown
123 52nd Park Street
California
Ph: 1234-56789
Email: sam@gmail.com
Date: 02.02.15
Robert Wills
Chairman,
National Food Association
B 15 6th Block
Jackson Street
California
Dear Mr. Wills,
I am a student pursuing a three year course in Food & Nutrition at Manchester University. I received your name from my professor Dr. Richard Thomson and I would be really very thankful if I could meet with you in person.
I would like to interview you in person. Please let me know that if you are available during the first week of March, 2015 so that I can make arrangements for the interview accordingly. I have a set of approximately eight questions to ask which will roughly take 30-40 minutes of your precious time. I highly appreciate for considering my request.
I shall call you on 05.02.15 to find out if you are available on the duration mentioned above or you may leave a message for on the contact information mentioned above.
Thanking in anticipation. I am looking forward to meet with you.
Other Related Post to Permission Letters
How to Write a Letter to My Boss for Permission
Permission letter is one of the most common letters that is written with an intention to seek the permission from a person to grant an authority to take some decision or to do something.
Sample Copyright Permission Letter
If you are planning to use any kind of copyright content or any other thing in your presentation, paper or for any other purpose then you must write a professional permission letter seeking the permission from the company or person to use it.
Permission Letter to Leave Office Early
There are times when you need to leave the office early. For instance, it is your wife's birthday or you have to attend some function.
Sample Employee Termination Letter for Theft
Human Resource Manager needs to be really very smart and skilful when it comes to writing an employee termination letter for theft.
Example of Request Letter to HDFC / SBI Branch Manager for Issue of New Cheque Book.
To
The Branch Manager
HDFC Bank,
12, Manek Branch,
Mumbai – 412 201
Dear Sir,
Reg : Issue of Cheque Book
Ref :  My SB A/C No 123456899001
This is in context to the above savings bank account number. I have been using withdrawal slip to withdraw any amount from my account.
I therefore request you to issue me a check book against my account no. with 20/25 leaves so that I am able to make my transaction with the same. Below is my permanent mailing address:
Riya Agerwal
18th Floor, Purohit House
16/1 R S Road, Shanti Nager
Navi Mumbai – 420 121
Thanking you,
Yours faithfully,
(Riya Agarwal)
Click Here To Download Cheque Book Request Letter for Bank