Posts tagged "Letter of Warning"
When you are working for a company, it is mandatory for you to comply with the rules and regulations of that company. It is obvious that you are supposed to abide by the ethnics your company believes in. If you are the HR Manager of your organization and you have come across a complaint of an employee reporting to work in a drunken state then writing a formal warning letter for alcohol consumption during working hours is the right thing to do.
We bring to you a sample format for writing a formal alcohol consumption warning letter. Use this template to create a customized letter as per your subjective needs.
Sample Warning Letter For Alcohol Consumption During Working Hours
From
Abhishek Dutta
HR Manager,
Zenith Technologies Pvt. Ltd.
4AA, Pali Hill, St.Andrews Road, Bandra West
Mumbai
Date: 15th March, 2017
To,
Robin Aniston
52/A, Reverie Apartments
Has Brown Residential Colony
London
Dear Mr. Aniston,
This is to bring to your notice that we have received a complaint against you that you reported to work in a drunken state. On 15th March, 2017, Saturday, you resumed your work post lunch in a drunken state which is strictly against the company policy. Not only that, you were suggested to leave the office by your team mates but you created a ruckus at the office and had a heated argument with your team leader, Mr. Jacon Smith.
As you are aware that our company is very particular about the conduct of our employees and the same has been mentioned in the rules of the company. As per our policy, any employee reporting to work in the influence of alcohol or any other drug will attract punishment. The power to fine, punish or terminate the employee strictly lies in the hands of the management.
As this is the very first complaint against you in the service of last three years, the management has decided to issue the final warning to you. If any such case is repeated in future then you will have to face immediate termination. Please consider this letter as a serious warning as we would not entertain such a kind of behavior.
You have always been a responsible individual and our company is proud of your performance. We would never like to lose an employee like you. In case you are facing any complications at professional or personal end, we would be happy to help you by arranging a session with our counselor who will assist you with dealing with the difficult times.
Hope you will be more cautious with your conduct.
Regards
Abhishek Dutta
HR Manager,
Zenith Technologies Pvt. Ltd.
Search Sample Formats: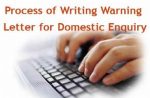 A domestic Inquiry in a company is an internal inquiry made into some alleged misconduct by a company's employee. The purpose of conducting such an enquiry is to find out whether the alleged misconduct is proven or not. In case the misconduct is proven then action has to be taken to recommend a punishment that is right for the offence committed. At the domestic inquiry, the employer presents his case and the employee is awarded an equal chance to put up his defense against the charges.
Here is a sample for your reference.
Sample of Warning letter for Domestic Enquiry
Sterling Stones Pvt. Ltd.
Adams Garden,
New York.
Date: 05/11/14
Mr. George Shalom
Employment No. 1234
Marketing Department
Dear Mr. Shalom,
It is alleged against you that you Mr. Shalom, Emp. No.1234, Designation: Assistant Manager (Marketing) had found sharing confidential details of the department with personnel of other department.
This act of your as constitutes misconduct according to the certified Standing Orders of the Company, as read
"Clause No. 5.a. The confidential details of the company shall be kept confidential and must not be shared with anyone else, without a reason. "
Therefore, your are hereby required to submit a written explanation stating as to why a suitable action should not be taken against you for the above said misconduct.
Your written explanation should reach to the management within 48 hrs of receipt of this notice. Failing to do so, it will be assumed that you have no explanation to offer and an action deemed fit shall be taken against you.
Thanks
Shery Jackman
Manager (Human Resources)
(The signatory)
Warning Letter To Employee Who Visited Client's Premises Without Permission
Employees have to follow the discipline in whatever job they do as they are the face of the company.
Search Sample Formats:
I have Attached Letter of Warning
II) Letter of warning after issuing show cause notice
(GENERAL)
Date:
Shri ………………………….
It has been found that–
1.
2.                            (Give specific details like, date, leave and place and description of the act of misconduct
3.
Therefore the said acts and/or omissions on your part amount to misconduct and you are hereby warned for the same. Please note that any repetition of any acts or omissions committed by you hereafter, shall be seriously dealt with as per law.
Signature