Posts tagged "job Transfer"
Good employees are like assets for organizations and they don't let them leave so easily. So, if you also in need of change of place of working then all you need to do is write a request letter for transfer to another branch or city. There are different kinds of job transfer letters for personal reasons depending upon the subjective situations of employees. Some people seek transfer due to family problem and some because of marriage. In India, request letter for job transfer due to marriage are quite common because these days most of the women are working.
Therefore, we bring to you sample letter request for job transfer due to marriage. Use this example for temporary job transfer to write a personalized letter that fits well in your situation.
Sample Format For Request Letter for Job Transfer Due to Marriage
From:
Anisha Gupta
54, Bhagat Singh Enclave
Mumbai
Date: 21.07.2018
To,
Vinod Khatri
Human Resource Manager
HSFS Bank
Mumbai
Sub: Request for Job Transfer
Dear Sir,
I have been working with HSFS Bank from last one and a half years as Relationship Manager at Goregaon branch, Mumbai. The purpose of writing this letter is to request a job transfer to New Delhi.
I have thoroughly enjoyed working at this branch in these eighteen months. I had lots of opportunities to learn and grow and I believe that my services have been beneficial to the company as well.
But now I will soon be getting married on October 12th, 2018 and my would-be-husband is settled in Karol Bagh, New Delhi. He is into business of hardware and therefore, there is no possibility for him to relocate to Mumbai. Therefore, I am interested in relocating to the New Delhi's branch of our bank. Moreover, I would prefer if I can get transferred to the Karol Bagh branch as a fresh start in Delhi.
I am very much keen on continuing my career with your esteem bank and that's why I would like to again request you to please consider my request and have it processed by the month of October so that I can resume working after marriage in Delhi. I will also be happy to train my replacement in Mumbai before moving ahead with the transfer.
I will get in touch with you in September start to know the status of my request. For any more information, please call me at 9898989898.
Thanking in anticipation.
Yours sincerely,
Anisha Gupta
Click here to Download Sample Job Transfer Request Letter Format due to Marriage in Word Format
Search Sample Formats: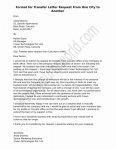 If you wish to move from one place to another and you don't want to leave your present company then you can always write a transfer letter to the HR Manager submitting your job transfer request letter for personal reason. This is a formal way of submitting your request by stating reasons because of which you are writing letter of request for transfer of workplace. Such letters are very much to the point and help you explain your part with no room for confusion.
We have a job transfer request letter example. Use this sample transfer letter format from one place to another to submit to your HR.
Format for Transfer Letter Request From One City to Another
From
Anita Sharma
52, Gandhi Apartments
Bose Road
Calcutta
Date: 14.04.2017
To,
Rohini Goyal
HR Manager
Crown Technologies Pvt. Ltd.
89, Simon Plaza
Calcutta
Sub: Transfer letter request from Calcutta to Delhi.
Dear Rohini,
I would like to submit my request for transfer from Calcutta office of our Company to Delhi office. There are a few personal reasons because of which I am initiating this request. My husband has been transferred to Delhi and that's the reason I am putting up this request. I have been associated with Crown Technologies Pvt. Ltd. from last five years and I have had an amazing work experience and I would not want to discontinue it.
I strongly feel that this change of workplace will be in the interest of my personal life and also the Company as it will save my time traveling to Delhi to meet my husband and I will be able to focus better on my duties and responsibilities. I feel that instead of leaving the company, just with a change of city, I can still be a part of this prestigious organization.
For all these years, you have seen my performance and the growth that I have achieved with the guidance of seniors and my dedication. I would be very interested in continuing working with Crown Technologies Pvt. Ltd. and contributing in the growth.
I would be extremely happy if we can work out on a solution that is mutually beneficial to the company and me. I would be glad to assist and train someone else for my profile in Calcutta office so that the work doesn't get affected. I promise to extend the best of my support in this.
I have had a wonderful journey with amazing experience and I would love to continue that for longer.
I thank you for considering my request. I would be waiting for your response.
Sincerely,
Anita Sharma
Senior Marketing Executive
Crown Technologies Pvt. Ltd.
Click Here to Download Request Transfer Letter From One Place TO Another