Posts tagged "Job Interview"
One of the most common questions we all are asked during our interviews is about our strengths and weaknesses. And this is also one of those questions we are confused about how to answer in order to increase the probability of selection in interview.
The best strategy in order to crack the interview is by highlighting your strength and talk about your weakness in a way so that you can present it as your strength. You must present it in a manner in which it looks like a positive trait of your personality. So before going for the interview, make sure you have worked upon your answer to make it complete and also impressive.
 You must understand that the idea behind asking this question is to know that how well you know yourself and also to know more about you and how your strengths and weaknesses affect your roles and responsibilities when it comes to your professional life. This post talks about some of the strengths and weaknesses along with their explanations that can surely make a big difference your performance in an interview:
Strengths to Mention in Interview
Here are some of the strengths given below along with how you should present it in the interview.
Focused
When you say you are focused, you must talk about your ideas. You must explain that how strong you are at concentrating when it comes to your targets. This can surely work as a wonderful strength for you.
Good Decision Maker
Every company wants an employee who has the ability to take good rational decisions and if you can explain the interviewer your ability to make the right choice then you have done a great job. You can also talk about learning from mistakes, following an analytical approach to take a decision etc.
Personal Values
Personal values include dedication, hard work, professionalism etc. By mentioning personal values, you can create a strong impression on the interviewer. But make sure that whatever value you are mentioning, you should be able to quote an example of the same.
Clarity
If you have clarity in your thoughts, actions, plans and goals then you must mention that to the interviewer. You can also mention that how this has helped you have better understanding of your passion.
Confidence
Confidence on yourself is the biggest strength and you must mention it in the interview. You ability to have confidence in your actions, in your life brings out positivity about you. Companies look for individuals who don't get worried seeing a problem but have the confidence to face challenges in life.
Weaknesses to Mention in Interview
Here are some of the weaknesses which if presented smartly then change the game.
Strict
You can be strict about various things. You must explain correctly that what makes you strict. Being strict about work done will always be a good thing. Being strict about discipline is always favorable.
Greed
You can have greed for anything but if it is greed for performance, for your new target, for more profits for company then this need will surely be appreciated by the company. So never fail to explain your greed.
Bossy
This word has a negative connotation and being bossy can be harmful for your image. But you can always present it in terms of leadership which is a positive word. So you can mention that you are bossy but selectively bossy as you give room to others to work but you also lead them to the right way.
Fearful
This means that you are scared of taking risks and no company would want that. So mention what makes you fearful. Quote an instance that doesn't imply that you are scared of risks or uncertainty.
Impatient
You can always mention that you are impatient when it comes to performing slow than usual, performing below expectations and committing mistakes. You are impatient when people arrive late. This helps you achieve your goals effectively.
So while mentioning your strengths, you can comfortably state 2-3 strengths but while mentioning your weaknesses, you don't have to be generous as just one weakness is fine. Always support them with instances. Do leave room for the interviewer to assume anything wrong.
Know about what things to avoid to save yourself making worst impression at the job interview. While going for a job interview, we want to deliver a wonderful performance so that we get noticed and we get picked in the hiring process. And in order to be successful, we sometimes end up getting nervous and miss on hitting the target.
This post unveils 10 important things which you must avoid making to save yourself from making a bad impression at the interview. With little vigilance, you can easily avoid them all and make sure that you are ahead of your competitors.
1. Reaching Late or Not Reaching at All
One of the most common reasons because of which people ruin their interviews even before they have begun is by arriving late for the interview or not arriving at all because of various reasons. Make sure that you are prepared to reach your destination on time. Confirm your interview in advance as it is the professional thing to do. Take extra time in hand so that even if you get stuck in traffic, you are still able to make it on time. But be careful that you don't arrive way too early.
2. Being Rude
Usually we all make sure that we are nice to each and every person we meet when we reach the company office. But sometimes some of us act as if they are doing a big favor by arriving for the interview and this reflects in their behavior. This kind of behavior can make things difficult for you.
3. Not Selling Yourself
It is very important for you to communicate your qualities, skills and talents to the interviewer because only then he will hire you. Interview is the only way to sell yourself and let the interviewer know what qualities make you a suitable candidate for the job.
4. Dressing Like a Slob
You need to know beforehand that what is the dress code for the interview so that you don't end up dressing too much or too casual. The best thing to do is to ask the person who has scheduled the interview about what is the dress code so that you can dress according to the job profile, industry and the company.
5. Checking Time and Phone
Once your interview has started, you must make sure that you have switched off your phone and kept it aside. Don't try and look at your watch. If there is something for which you are running late, do not panic or else you would mess up your interview. And most importantly, do not ever say in the middle of the interview that you have to make a call. You must be focusing on your interview without getting distracted.
6. Don't Always Speak Your Heart
You must never speak what you really think. In case you start speaking bad about your last employer or your boss then you are in deep trouble. The interviewer is going to think that you would do the same to his company and would never select you. Make sure that you only speak positive things during your interview and keep all the negativity aside.
7. Going Unprepared
If you are planning to simply get up and go then this is the worst thing you are going to do. You must prepare yourself before the interview. Know about the position, the company, the industry and other related things so that if you are asked anything about any of these points, you have a strong answer to give. Take some time and Google about the company, match your qualifications with the job.
8. Not Speaking the Truth
Some of us exaggerate or lie about our experience or our academic degrees just to create a strong background but what we forget is that while doing a background check, if employer gets to know about our manipulations then we are going to lose the offer. So make sure that you speak the truth, minus all the exaggerations and incorrect information.
9. Leaving the Deal Unclosed
While wrapping up, interviewer generally asks if you have anything to say. Use it as a chance to express gratitude for considering you for the profile. The idea is to communicate that you are sincerely interested in the job.
10. Missing on Follow Up
We often forget to thank the interviewer for the interview or write a follow up message and this is considered quite unprofessional. Make sure you do send a hand written thank you note or email to deliver a positive impression.
Find out about important things that you must never wear to a job interview in order to mark the right impression. When you are dressing up for interview, the focus is on creating the right impression because what you deliver in those few minutes, verbally and non-verbally will be responsible for your success or failure. Therefore, what you wear to the job interview is of utmost importance. For dressing smartly, you don't need to spend loads of money buying the right clothes but keeping in mind a few things mentioned in the post below, you can save yourself from fashion faux pas to crack the deal and be a winner.
Read on to find out the 9 things that should always be avoided when you are going for a job interview, for a positive and professional impression.
Casual Tees or Tops Under Blazer
You might think that by wearing blazer for the interview, you are sorted but what is equally important is what you wear underneath. For women, it is important that the plunging neckline is decently covered. Likewise men should avoid wearing a t-shirt underneath as it doesn't look formal.
Headphones
You might not realize that you have entered the interview office premises wearing headphone. From head to toe, you are dressing in fine formals but with earphones hanging around create a negative impression. They show that you are neither focused nor serious about the job interview. So before you enter the premises, keep them in your bag.
Heavy Makeup
In order to impress, don't end up wearing heavy makeup. You must look natural. Do not wear dark eye shadow or heavy foundation or very dark lipstick. Tinted lip balm with light coat of mascara promises an elegant look. For a summery day, you can have a refreshing look with a touch of powder.
Loud Scents
You must avoid wearing strong perfume or cologne. Make sure that it should never be the first or the last thing that the interviewer notices about you. There is no harm in smelling good but keeping it too strong should be avoided.
Casual Summer Clothing
You cannot wear a heavy formal suit for job interviews in summer season but then what to wear for summer interviews. Surely, no shorts, tank tops, dresses or casual t-shirts with flip flops. These are serious NO options. You can wear in smart tailored khakis. Match them with summery light colored polo t-shirts or elegant button down shirt. Team them up with decent pair of shoes.
Old Fashioned Clothes
If you feel that your wardrobe has old fashioned clothes then you really need to buy some modern clothes that you can wear to the interview. Avoid wearing outdated clothes. The same rule applies to your shoes as wells. Make sure your clothes and shoes create a balanced and modern overall look. Be a smart shopper and don't spend too much on wardrobe makeover.
Striking Tie
If you are dressing in your best tie thinking that it is going to make a statement then make sure you don't pick a tacky piece. Do not be very experimenting and keep your choices to stripes, paisleys or bold soothing colors that will promise a classy look.
Too Many Accessories
Whether you are a man or a woman, you must always keep your accessories to minimum. Wearing too much jewelry is not a great idea. Wear elegant studs as they will look simple and classy. Do not wear any kind of heavy neckpiece or too big sunglasses or anything that is striking. Likewise for men, wearing tie pin along with loud cufflinks is not a great idea.
Un-ironed Clothes
Make sure the clothes you are wearing are properly ironed. Wearing tidy and properly pressed clothes add a crispy and professional look to your personality. This would take a few minutes but will help you create the right impression.
Use these tips when it comes to wearing the right attire for the job interview. The above mentioned fashion disasters must be avoided at every cost so that you are able to impress everyone on the panel.
Once you have applied for the job, you are not sure when you are going to receive the call for interview or your application has been rejected or selected. Sometimes employers received hundreds of applications for a job because of which they fail to inform the rejected candidates and we all keep waiting for the response from their end. In some cases, companies mention that they will get in touch with only those candidates who have been selected for the interview and in other cases, companies do not state anything.
This post talks about different ways in which companies notify applicants about the interviews. It is important that you stay active and aware about these notification mediums so that you do not miss on being contacted.
You can het either emails or voicemail's or messages from the employer, informing you about the interview. It is important that you keep checking your email and voicemail from time to time to ensure that you have not missed on any of these messages.
These messages will contain the pre-scheduled time and venue of the interview along with confirmation from your end. In case, the company wants you to be present with some preparations then you will be informed for the same in advance. The company will also inform you about the format of the interview so that you are prepared accordingly.
Various formats used by employers to invite job applicants include the letters and messages mentioned below:
General interview invitation
Panel interview invitation
Interview invitation with reimbursement
Second round of interview invitation
Interview invitation asking applicants to pick the interview date
Email interview invitation asking what to bring
Phone call invitation with a date of interview
Phone call invitation asking candidates to select interview date
Phone call invitation with options for interview dates
Once you have received an invitation for the interview, you must respond to it either by confirming it or by rejecting it.
These are different ways of notifying the applicants about interview opted by the companies.
Search Sample Formats:
Once your interview has been conducted and you are still waiting for the results to come up, dropping a job inquiry email is a good idea. The purpose of writing such an email is to take the follow up and also to thank the interviewer for his time. This kind of behavior shows that you are particular, organized and professional approach.
If you have also faced an interview recently and you also wish to write a job enquiry email to the interviewer to know about your status then here is a sample email to help you write your own letter. Such emails are very short but they give you all the room to impress the interviewer with your professional conduct.
Template of Job inquiry email after interview
Subject: Thank you for an inspiring meeting
Dear Mr. Smith,
I would like to thank you for taking out time to interview me on 07th November, 2015 for the position of Marketing Executive. After meeting you, I got to learn lots of new things about the goals and mission of ABC Corporation Pvt. Ltd. which has infused me with more interest and excitement to join such a reputed company.
Based on the information that you shared with me, I strongly feel that I can make positive contribution in growth and success of your organization. After discussing the requirements of the position, I feel that my skills, experience and strength will perfectly match with it. With my prior experience at AAA Technologies, I can meet up with your expectations.
I look forward to your response. In case you need any additional information then please contact me at john@gmail.com.
Thank you for your time and consideration.
Yours sincerely,
John Jacob
Search Sample Formats:
Follow Up Letter After Phone Interview
Times have changes and now interviews are conducted over phones as well. Telephonic interviews have become quite common. Once the interviews are conducted, the next thing that keeps you waiting is the result. But before that you must send a formal follow up letter to the interviewer expressing gratitude for taking out time to interview you.
If you don't know how to frame such a letter then here is an example template to help you with creating your own customized follow up letter after telephonic interview.
Sample Follow Up Letter After Phone Interview
James Smith
42 Johnson Apartments
St. Anthony's Road
New York
Date: 26.10.15
To,
Andrew Gibbs
HR Manager
ABC Corporation Pvt. Ltd.
2 Richmond Street
New York
Dear Mr. Andrew,
I would like to thank you for taking out time form your bust schedule to interview me over the phone yesterday for the position of Marketing Manager. Kindly accept my sincere appreciation for the opportunity you gave me for this job. I am very much interested in working with your esteem organization.
After yesterday's discussion over the phone, I further studied the profile of the company and the job description and I believe that with my experience and educational background, I would be able to match up with the expectations of your company. You expressed that you are looking for a person with strong leadership qualities and commitment to be able to accomplish the assigned tasks on time. I would like to bring to your notice that in my previous company, I was awarded with excellence award for my performance.
I would appreciate a personal interview to meet you face to face and discuss in detail all my qualifications and work experience for mutual benefits.
I look forward for your response.
Thanking you.
Yours sincerely,
James Smith
It you want to seal the deal then you must write a formal thank you letter after the telephonic round for a job interview. You must have heard this advice quite a lot of times but you must know that it is very much essential. This is so because when you have not met someone in person and you are connecting with him over the phone then you must not miss even one single chance to impress him with your behavior. And a thank you letter does just that.
If you have just finished with the phone job interview then waste no time in framing a professional thank you letter addressing the interviewer expressing your gratitude towards him for taking out his time to interview you. if you are short of words then here is a template sample of thank you letter after phone job interview to help you deal with the situation.
Format for Thank You Letter After Phone Job Interview
Mathew Jacob
46 Agastha Apartments,
Herald Street,
New York
Date: 21st September, 2015
To,
Julia Mars
HR Manager,
XYZ Development Bank
42 Richmond Street,
New York
Dear Ma'am,
I would like to thank you for managing your time and interviewing me over the telephone for the profile of Assistant Marketing Manager for your company. I am very much interested in working at this profile as this is a wonderful opportunity for my career.
After having a conversation over the phone and exploring more about the company's profile and the roles and responsibilities of the above mentioned position, I strongly believe that my vast experience and skills are going to match with the requirements of this job. From last ten years, I have worked at different profiles in the marketing department which makes me well aware of the market and techniques to market the business.
I would appreciate a personal interview in order to extensively discuss my education qualification and my work experience. It would be a great pleasure to me to provide you with additional information as needed.
Thanks for considering me for this job and taking out time to interview me.
Looking forward to hear from you.
Yours sincerely,
Mathew Jacob
Saying a thank you never hurts and especially when you have just finished with phone interview. In fact, it shows a professional approach which never fails to impress. So once you are done with the telephonic round of interview, don't forget to send an email message to the interviewer thanking him for considering you for the job and taking time from his busy schedule to speak with you. This can really take you to the next level of recruitment process.
If you are not sure of what to write in such kind of an email then we are here to help you with the situation. Below is a format example of thank you email message for a phone interview using which you can frame your own customized message. Remember to keep it short and sweet with a polite formal tone.
Thank You Email Message for a Phone Interview Example
Sub: Thank you- Assistant Marketing Manager Interview
Date: 8th September, 2015
Dear Sir,
I really appreciate having the chance to speak with you today about the job opening in your company for the post of Assistant Marketing Manager. Having discussed the company's profile and the job description, I strongly feel that this job profile is a good match for my skills and experiences.
I am thankful that you gave me your precious time today for discussing the prospects of the job. It gave me opportunity to learn more about the job and I feel to have extensive discussion on the same, it is important to meet you in person so that I can also explain about my qualifications and my experience. I feel with my background, I can be a big contributor to your organization.
I am extremely excited about this job. Please email me or call me if case you need any more information about my career.
I would look forward to hear from you.
Thanking You.
Yours sincerely,
John Smith,
52 Part Avenue
Richmond Street
New York
Ph: 123-45666
Email: john@abc.com
With time everything changes. Remember all the advices and guidelines given by your professor in the last year of your college about designing your resume, the one that you prepared after your graduation? Well now times have changed. After your first real job, when you are updating your resume, you need to know the important points that you must include and irrelevant points that you must deduct to make sure that looks perfectly impressive.
This article focuses on five important things that you need to keep in mind while updating your resume after your first job. This is important because you have grown in terms of your career, experience and exposure and your resume must reflect that. So to have a professionally designed resume, you must follow all the points mentioned below.
Strike Out the References from Educational Institution
Once you have completed your college and started your career, no one is bothered about your grades and marks. Hence, it is important that you remove all the references from your professors, principals etc. so that your resume doesn't give a feel that you are still studying in college. Mentioning the name of your college, your degree and your major is more than enough. You can surely mention your wonderful accomplishments and awards along with some information on your internship or any other important thing that reflects some important qualities in your personality. Rest everything should be removed from it. You don't need to mention anything else and after your college, your focus must shift to your real working experience as that is the most important thing that counts.
Talk About Your Job
The prime focus of your resume should be on your job. You must discuss in detail your profile along with the roles and responsibilities. As this has been your first and the only job, there is nothing more to mention so you can take the liberty of mentioning about it in an informative manner. Avoid mentioning them into a paragraph. Listing them into points will bring good clarity to the hiring manager and it will also give a professional feel. Make sure that you talk about these responsibilities in the order of priority.
Special Mention of Your Skills
When you take up a job, you also acquire some skills that are useful for performing that job. It is always good to talk about your job-related skills that you picked at work along with the skills that you picked during extra-curricular activities at college or school. If you experienced some training session during your job then you must also talk about it. You can even talk about your computer courses that you did which helped you in your job or other various courses that have contributed to your performance at work.
Professional Appeal is Must
For your resume to look impressive, it is important that you make it look professional from every angle. It is good to update the format so that it looks fresh and nice. It is important to make sure that the font style, size and other formatting details are in synchronization with the present trends. For instance, it is good to replace "Objective" on top of your resume with "Professional Profile" as per the latest trends otherwise it will look stale. Also ensure that you have proofread the resume so that there are no grammatical errors and issues in it.
Update Personal Information
Do not forget to update your personal information which includes your address, phone number, email id etc. along with your marital status. Do not just paste it on your fresh resume without changing it, if there have been any changes in it. We often just let it pass the same way as we forget to update the information.
These are the five points which we all must keep in mind while updating our resume after our first job. This way you will see a big change in your resume as it will be very different from the one that you had create after your graduation. This one will be more professional, more informative and more impressive.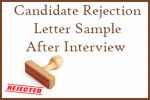 If you are confused about how to inform the applicant about the rejection on behalf of your company then it is quite natural because you want to keep it professional, polite and very encouraging. It is a formal process that you have to send rejection letters to applicants that have not been selected for a position once the interview process is finished. It is the duty of every good company to put it across the candidate the result of the interview so that he can move ahead and look for other options.
Here is a sample format that can help you manage this task very conveniently. Follow this template and create a personalized letter which is professional and pleasant in every sense.
Interview Rejection Letter Example
Sam Jackman
Hiring Manager
Sunshine Developers
42, Park Avenue
New York
Date: 26th November, 2014
Adam Gibbs
123, Greenview Apartments
California
Dear Mr. Gibbs,
We appreciate you for taking time out to interview with us for the profile of Marketing Executive. We highly appreciate your interest in the job and the company.
This is to let you know that we have made the final selection of the candidate for the position. After an in depth analysis and consideration, we have selected the candidate whom we feel is the perfect one to closely match with the job requirements for the position.
We thank you for taking the time to interview with us. We would be more than happy to receive your application for other openings at the company in the future.
All the best for your search. May you find a good job.
Yours sincerely,
Sam Jackman
Hiring Manager