Posts tagged "Invitation Letter"
Schools, colleges, companies and various other organizations organize formal party for their staff members. They therefore send formal dinner invitation invites which have complete details about the date, time, venue and occasion. These kinds of letters are often called company annual dinner announcement memo or invitation letter for Annual staff party. Being the HR Manager of your company, it is your duty to send company annual dinner invitation letters to staff members and colleagues. These days office party invitation emails are in trend and therefore, you can also send dinner invitation email to your colleagues.
Given below is a sample format of Company's Annual Dinner Invitation Email to Staff in MS Word format. You can download this letter and use it as per your requirement.
Sample for Company's Annual Dinner Invitation Email to Staff
Date: 18.05.18
Dear Staff Members,
Greetings!!!
Congratulations on successfully completing another financial year. It is because of the hard work and dedication of all our employees that we could manage to complete all our projects within the designated time bars and also start with various new projects which will take our organization to new heights.
At, K. P. Technologies, we consider our staff as our family and that's why every year, we organize an Annual Gala Dinner for all our staff members along with their families as a time of celebration. All of you come with our families and enjoy this annual dinner with your colleagues, seniors, juniors and the Management. This is a way of connecting with our staff on a personal level and also have their families introduced to each other.
Please consider this email a formal invitation extended to you and to your family for Annual Gala Dinner 2018. Here are the details of the same:
Date: 26th May, 2018
Venue: K.P. Technologies Head Office
Timings: 8.00 p.m. onwards
We would be waiting to welcome you all with your families and enjoy this event like a big family. Let us take a break from work and spend some quality time with each other.
Regards,
Anirudh Sharma
General Manager
K. P. Technologies
Other Related Invitation Letter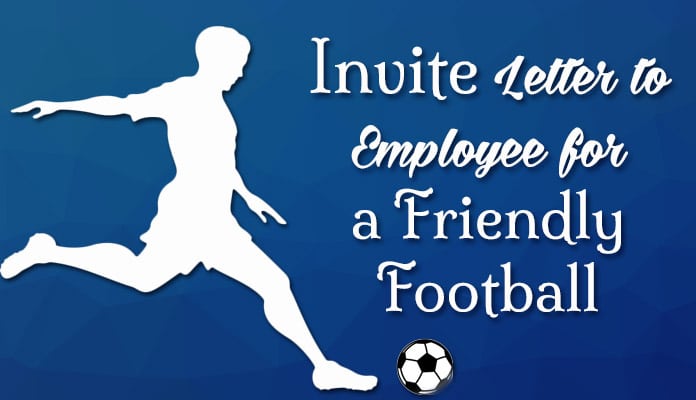 Balancing work with some playful activities works wonderfully well for employees and employers. It is not just a way of de-stressing but also a creative way to become a stronger and healthier group. As a company, if you are planning to organize a cricket match or a football match amongst the employees of you organization then you must send a friendly invite to them inviting them for a fun-filled match. Such invitation letters are quite simple and also very short.
So if you have to frame this kind of an invitation letter for a friendly match, use the sample template for your reference to invite the employees and also their families for this event.
Invitation Letter to Employees for Cricket or Football Match
Dear Employees,
This is an invitation to welcome you all for the friendly cricket match organized to be played between the Marketing Team and HR Team of our company on the Sport's Day event scheduled on the occasion of Republic Day.  Here are complete details of the event:
Date: 09th February, 2017
Venue: Sports Complex, Malviya Nagar, New Delhi
Time: 9 a.m. to 4 p.m.
We would also like to inform you to bring your spouse and children along for this friendly match to enjoy the sports activity followed by lunch to celebrate Republic Day with vigor and high spirits.
Looking forward for your presence.
Regards,
Umesh Sethi
Manager
Regal Cosmetics Pvt. Ltd.
Search Sample Formats:
With another year about to it, it is surely a party time. If you are planning to organize a year end party for your employees then being an employer or HR manager of your company, you must send official New Year Party invitation 2017 to invite your employees for the celebration. Draft year end party invitation using the sample template that includes all the details about the party.
Given below is an example of New Year office party invitation which you can customize to use it as per your requirement.
Office New Year Party Invitation Example Letter to Employees
From
Devika Gaur
HR Manager
Natural Health Products Pvt. Ltd.
54 Gulmohar Street
New Delhi
Date: 26th December, 2016
To,
Ms. Richa Gupta
12 Pearl Residency Apartments
South Delhi
Dear Ms. Richa,
We invite you and your family to the New Year's Party 2017 organized by Natural Health Products Pvt. Ltd. for all the employees on 31st December, 2016. The venue of the party will be Rajputana Hotels, South Delhi from 8 p.m. onwards.
This party is organized to welcome the New Year with your colleagues who are like your family. This party will be attended by all the board members and the top management to make these celebrations memorable for all of us.
The company is organizing this event as a sincere appreciation to all the employees of the Company who have worked hard in this year and contributed to the success of the organization. This surely called for ending this year with a happy note and beginning the upcoming year with celebrations.
The theme of the party will be retro and therefore, you are requested to please dress according to the theme as there is a surprise price for the "Best Dressed Male" and "Best Dressed Female". Make sure you bring along your spouse and kids to this event.
In case you will not be able to make it to the New Year's Party, please inform Mr. Raghu Dev by 28th December, 2016. You may email him at raghu@natural.com or call him at 123-455678.
We will look forward for your presence to celebrate New Year with you.
Regards,
Devika Gaur
HR Manager
Natural Health Products Pvt. Ltd.
Search Sample Formats:
Employee get together is an official meeting which can be held monthly, quarterly, half yearly or annually depending on the company's requirement. Employee get together is held either for the whole company or for a particular department. An Invitation Letter for get together is an official letter drafted by a company or the concerned department to let the staff members know that they are invited to the gathering.
We are mentioning some tips and a sample for the same to guide you how to write official get together letter to an employee.
Tips to write Employee get together invitation letter
Here, we are trying to explain some simple writing instructions to make your get together letter look formal and effective.
As it is a formal letter, so always write it on the letter head of the company.
Should be drafted in a standard format as followed by the organization.
The message should be short and precise. Hence, avoid including irrelevant information so that it does not divert from the main topic.
Don't forget to write a subject line. Subject line briefly describes the general idea of letter at the first glance.
Clearly mention the date, venue and timing of the meeting. So it will make everyone aware about when and where the event is going to happen.
Make sure you mention the reason of the meeting and who all from top management are expected to attend the gathering so that staff members come prepared.
Always mention the dos and don'ts of the meeting in a professional and sober manner.
Close the letter formally.
Sample of Employee get together invitation letter
Below is a sample of employee get together letter issued by or on behalf of the company to its employee for a quarterly meeting.
To
The Employee
Apollo Management
Solow Building
Ney York
United States
Date: 30th April 2014
Subject: Employees quarterly get together on 17th May 2014
Dear Employees,
This is a personal invitation to you for the quarterly employee meeting which will be held on 17th May 2014, Saturday at Hotel Mount from 7 P.M. to 10 P.M.
The agenda of the meeting is to discuss the success and development of the company in the last quarter and to appreciate the employee contribution. The top management team and board of directors of the company will be our guest of honor and will convey their gratitude for the contribution in the growth of the company. So, this event will be a great opportunity for you to get acquainted with the business leaders.
This is an official party so you are requested to come in formals and maintain the ethics in the party. You are allowed to bring one family member (but not kids), so that they would also be aware of the growth of your company and your contribution to it.
You are request to please confirm your visit in advance to Mr. Thomas. You can contact him on 9999-999999 or you can also confirm your visit via mail at hrthomas@apollomanagement.com.
We are looking forward for your presence in the get together to make it a great event.
Regards
Nancy Mathew
Management Team
Apollo Management
 Click Here To Download Employee get together invitation letter
1st Interview Invitation Letter
Date
Name of Applicant
Address
City – State
Sub: interview Invitation for position of …………
Dear Name of Applicant,
Thank you for submitting an application form for the above post. I am delighted to invite you to attend on interviewing you for the position of sales manager.
This letter confirms the phone conversation in which we scheduled your interview on……….
The interview will consist of contents as follows:
+ Interview time:
+ Types of interview
If you have any questions, please call me at………..
Sincerely yours,
John Tan
HR coordinator
SAMPLE 2ND INTERVIEW INVITATION LETTER
[Date]
Dear [Name]
Re: Vacancy for [position title]
First of all, we thank you for your application for the above position.
We would like to inform you that you pass 1st round interview. We be grateful if you could attend an 2nd interview:
At [Address].
On [Date].
At [Time].
The interview will be with [name and job title of interviewer(s)].
The interview is scheduled to last approximately [state duration] and will take the form of [short description of format of interview such as panel, group interview…].
Please can you bring along the following documentation to the interview:
1.
2.
3….
Please contact [name of contact] on [telephone number] to confirm your attendance at the interview. If you have a any questions to assist you at the interview, please let [me/name of contact] know.
A map showing the location of the interview venue is included.
We are looking forward to meeting you.
Yours sincerely
John Tan
HR manager

Click Here To Download 2nd Interview Invitation Letter

Search Sample Formats:
Please attach a sample format here.