Posts tagged "Formal letter"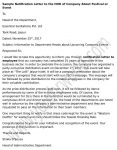 Notification letter to inform about an event to the head of the departments is always meant to inform about the special events or proceedings taking place in the company. Of course, the purpose of circulating the information about upcoming events of the company is to initiate the participation of employees and make the most of the event for sure. Definitely, the events are celebrated or organized for the purpose of promoting effective communication between diverse departments of the company that do not stay in touch otherwise. Below mentioned is the sample notification letter of upcoming event in the company to head of departments.
To,
Head of the Department,
Essential Sanitation Pvt. Ltd
Tonk Road, Jaipur
Dated: November 25th, 2017
Subject: Information to Department Heads about Upcoming Company Events
Respected Sir,
I would like to take this opportunity to inform you through notification letter to employee that our company has completed 25 years of operation in the business sector. In order to celebrate the occasion, the company has organized a party-cum-prize distribution event on December 1st, 2017. This event will take place at "The Lalit" Jaipur hotel. It will be a pompous celebration about the company's progress that would start with our CEO's message. The message will be followed by prize distribution to the notable employees in the company for their valuable contribution.
As the prize distribution process gets over, it will be followed by dance performances by some of the in-house employees only. Of course, the arrangement for DJ is there in the hotel that would be culminated by a sumptuous drink and dinner session. So, the head of the departments are noted well in advance by the company's administrative department and they are requested to pass on the information to their team members.
One important thing to notify is that dress code kept for the event is "Western Outfits" for women and men should follow the Tuxedo Dressing Rule.
Congratulations to you for your initiative and recognition of the event. Your presence in the function is important.
Thanks and Regards,
Shaila D'Souza
Head of Administrative Department
Click Here to Download Sample Notification Letter in word format to the HOD of Company About Festival or Event
If the employees of your company have submitted the request for a team outing and the management has agreed to their request then in that case,  the company is suppose to write a formal memo to inform staff company trip. The letter to employee team outing consists complete detail of the outing that has been planned for the employees thereby leaving no room for confusion. It is a way of formal company outing announcement followed by company.
To help you write a Letter to Employees on sanction of their team outing we have come up with an outing letter sample. Use it by customizing it as per your requirement.
Sample Letter to Employees on Their Team Outing Sanction
Date: 12.09.2017
Dear Employees,
This is to inform you all that the Management as accepted the request for team outing for the employees that you submitted on 05.09.2017. Given below are the details of the outing that have been sanctioned:
Date of Journey: From 25.09.2017 to 30.09.2017
Destination: Mussorrie
Accommodation: Hotel Park View
This request has been approved subjective to the following conditions mentioned in your request letter:
This outing has been organized on your own and therefore, this will not attract any TA or DA claims.
You will take complete care of your travel, baggage and insurance.
You will be responsible for your safety and your belongings.
You will be responsible for any accidents or incidents that take place during the event.
Management has agreed to mark all the employees as "Present" from 20.09.2017 to 24.09.2017 even though employees will not be present at work to attend to their duties.
You may work on your plan and submit the final details of the outing with the company. In case of any other help, you may get in touch with the HR department.
Sincerely,
Radika Sharma
Click Here to Download Letter to Employees on Their Team Outing Sanction
Sometimes companies announce special leaves but then they sometimes plan to discontinue it for some reasons. In such a situation, company is suppose to write a formal letter of announcement mentioning about discontinuing of special leaves. This is the way of informing all the employees of the company in a formal manner.
To help you frame a personalized letter for discontinuing special leaves, we have come up with a sample template which can be utilized to create your own.
Sample Announcement Letter for Discontinuing Special Leave
Date: 21.08.17
Dear Employees,
This is to inform you that last year Management had decided a special leave for all the employees of the company on their birthdays. We would like to inform you that now Management has decided to discontinue this special leave from this year, effective from 1st September, 2017.
This reason for discontinuing this special leave is because the work pressure is extremely high as there are lots of new projects under process and this would demand more time and efforts from everyone's ends.
Sincerely,
Sumita Agarwal
HR Manager
Rishabh Bath Fittings Ltd.
Click here to download Announcement Letter for Discontinuing Special Leave
Letter for Announcement Of New Employee Joining
Whenever a new employee joins a company, it is the duty of the management to welcome him with open arms and announcing his arrival publicly.
Permission Letter to Leave Office Early
There are times when you need to leave the office early. For instance, it is your wife's birthday or you have to attend some function.
Announcement Letter Format For Half Day Leave For Staffs
Sometimes you have an important work to do and for that you need to take some hours off from work or your classes.
Format of Half Day Leave Application Email
If you have some personal work to do during office or college hours then you can always seek permission by writing half day leave application email.
Companies issues different things to their employees which are required by them to work hassle-free. While issuing things like laptops, mobile phones etc., companies write a formal letter of assets stating everything that the company is issuing to the employee along with terms and conditions for the same.
Given below is a format for letter of assets for issuing laptop, mobile phone etc. which you can use for creating a personalized letter.
Format of Letter of Assets for Issuing Laptop, Mobile Phone and SIM
From:
Smita Singhal
HR Manager
Sinha Group of Companies
52 Gulmohar Lane
Delhi
Date: 26.05.2017
To,
Amit Tandon
H-52/A, Welengkar Apartments
Greater Kailash
Delhi
Dear Amit,
We would like to inform you that for the position you have joined Sinha Group of Companies, the management has decided to provide you with a laptop, a mobile phone and a SIM which comes under group connection of the company.
As per the Company's policy, the designation on which you have joined, allows us to issue you with a Moto Xplay handset and a Dell laptop. We would further like to inform you that the company will bear only the rental cost of the mobile phone. In case of exceeding the limits, the payments will be debited from your salary.
We would like to share with you that you will be responsible for taking care of the handset and the laptop. In case of loss or damage, you will be responsible for the replacement.  And when you will leave the company then you will be required to return the laptop, the mobile phone and the SIM card that the Company is issuing to you to the HR department.
Sincerely,
Smita Singhal
HR Manager
Sinha Group of Companies
Click Here To Download Need Issuing letter format for Laptop, Mobile phone and sim
Award Announcement Letter is a formal declaration of winning an award to tell everyone about the winner. Award write ups for employees' nomination, employee recognition award letter, award announcement letter for company receiving an award are a few different kinds of announcement letters. There are also congratulation letters on winning an award complementing these announcements.
Achieving an award is surely a great moment and when your company is getting awarded, it is a cheerful moment.  If your company has achieved some award then you must write a formal award announcement letter to share this wonderful news with your employees.
Here is a wonderful award letter template which you can use for creating a personalized announcement letter write up keeping this example as base.
Award Announcement Sample Letter
Dear Employees,
As the Chairman of KP Business Solutions Private Limited., it is my pleasure to announce that our company has been awarded with volunteer award for year 2016. This award is given to companies who have met the quality standards set by the government in the industry.
I am proud to share this news with all our employees who have worked very hard to maintain the quality standards of the production. It is because of the combined efforts of each one of our employees that we have managed to achieve this success.
I congratulate all of you on behalf of the company on being a part of efforts made in this direction. To celebrate this proud moment, we shall soon be organizing a celebration. This is just one milestone and we have more such awards to bag.
Congratulations to all and all the best for the journey ahead.
Regards,
Adams Smith
Chairman
KP Business Solutions Pvt. Ltd.
Announcement Letter Format for Discontinuing Special Leave
Sometimes companies announce special leaves but then they sometimes plan to discontinue it for some reasons.
When you are writing a letter to your family or close friends, you can effortlessly close your letter with Love, Hugs etc. but the real dilemma begins when you have to close a letter to a newspaper editor or to the society secretary, we all end up using the same old way.
If you also get confused after completing the letter about closing it effectively then this post addresses your problem in the best possible way. Read through these simple yet impressive 5 ways which are perfect to close your emails and letters with confidence.
Name Yourself Again
Pose a question to yourself that how are you related to the reader of the letter. Don't hesitate in answering. Once you know your relationship, it will become a lot easier for you to end your letter in a smart way.
For instance, if you are an aunt writing a letter your niece then Your Affectionate Aunt will add a finishing touch. Likewise you can add some words to it and make it more effective. Here is an example for your help, I trust this response will be satisfactory, and remain yours faithfully.
3S: Short, Simple, Sweet
Keeping the ending simple and short will surely make it sweet. Keep yourself free from all the hassles of thinking something wow because the examples given below are really crisp and effective. Have a look at these sure short endings that never fail…
All the best,
Cheers,
All best otherwise,
Regards
Adieu, adieu, adieu
Play with Present Participle
Adding an active –ing verb can add a completely new effect to your ordinary ending. For a fine finish, you must play around with present participle for that flawless impression that ensures a great end to a beautifully drafted letter. You can even add some suspense to make your letter all the more interesting.
For example, replacing Very truly yours with Wondering when to expect a response from you will surely make your end as powerful as the content of your letter. Experiment with words to write unforgettable endings.
Keep it Simple with Adverbs
It is the easiest and the smartest way for all those who don't want to invest much time in thinking that perfect sign-off line. Just prepare a quick list of –ly adverbs and you are sorted. These adverbs promise you a quick and unique ending to your emails and letters. Here are some examples for your reference… Cordially, Affectionately yours, Respectfully yours, Truly Yours etc.
Perfect Prepositions
If you don't mind being a little more creative then ending the letter with a prepositional phrase is another fabulous way. You can sign off the way you like, from something formal like beyond grateful to something casual like in big hurry.
You can even try something longer if don't mind extra words while signing off. For instance, With best wishes and a friendly thank you…..
These 5 ways make signing off emails and letters much easier. They cut all the confusion and chaos you have in your mind. Don't let a bad sign-off statement ruin your letter.
Every company has its own rules. Some companies ask for original certificates and some don't. If you are the HR manager of your company and you have been asked to collect the original certificates of your employees then you must write a formal letter to them asking them to submit their original certificates with the company.
If you are not sure how to frame such letters then use the sample format of letter addressing the employees, asking them to submit the original certificates to frame your customized letter with all the details. Such letters are quite simple, sorted and short in length as you do not need to share too much of information.
Sample Letter To Employees Asking For Submitting The Original Certificates
Robert Wills
HR Manager
ABC Corporation Pvt. Ltd.
B 15 6th Block
Jackson Street
California
Date: 02.15.2016
Samantha Brown
123 52nd Park Street
California
Dear Ms. Brown,
This is to inform you that the company has decided to collect the original certificates from all the employees who are working on rolls of the company. This decision was made during the annual meeting of the company which happened the last month.
You are requested to please submit your original certificates with the HR department by January 15th, 2016. These documents should include originals related with your education qualifications and your prior experience. They will stay safe in company records and you can have them back when you are no longer associated with ABC Corporation Pvt. Ltd.
If you have any queries regarding the same, please feel free to get in touch with the HR department.
Looking forward for the submissions.
Regards
Robert Wills
HR Manager
ABC Corporation Pvt. Ltd.
You have received an offer letter for the job that suits your expectations but the salary that has been offered to you is not up to what you had expected. In such a case, you must send a formal salary negotiation letter to the company or the employer. Instead of saying a complete no for the offer, sending a negotiation letter is considered as the more practical and also rewarding step to take.
Given below is the sample of formal salary negotiation letter to the company from which you have received an offer letter. Use this template to create a personalized letter.
Formal Salary Negotiation Letter to Company
Julia Mars
11, Park Avenue,
St. George Village
Date: 05th February, 2016
To,
Mathew Jacob
HR Manager,
XYZ Corporation Ltd.
42 Richmond Street,
New York
Dear Mr. Jacob,
I want to thank you for the job offer for the position of Marketing Manager from XYZ Corporation Ltd. The areas of responsibility for the profile are as per my career goals and my expertise. I am very hopeful that with the foresighted growth plans of your company, I would have an excellent opportunity to make significant contribution to the overall growth and success of the organization.
Before moving ahead with accepting the offer made by you, I would like to discuss the salary that you have offered. As per my knowledge, the average salary for the post of Marketing Manager in the industry is $ 100,000 annually. Moreover, with my experience, education qualification and career record, I strongly feel that you must consider the offer you have made. I feel that the position of Marketing Manager demands high levels of commitment and I am completely prepared to give all my time and efforts.
I would like to thank you again for the offer and will look forward for your response. I am hopeful that together we can reach to a mutually beneficial agreement.
Sincerely,
Julia Mars
Every year every company has some new faces joining in and some old ones leaving the company. This is quite the sequence for every company every year. If you are the HR manager of your company and you also have some relieving request letters from your employees then you must send formal acceptance letters relieving them from their duties in professional manner.
Here is the example relieving letter to help you write a formal letter on behalf of your group of companies. Use this sample format to create a personalized letter.
Relieving Letter Format From Group Company
Robert Wills
HR Manager
ABC Corporation Pvt. Ltd.
B 15 6th Block
Jackson Street
California
Date: 01.02.2016
Samantha Brown
123 52nd Park Street
California
Dear Ms. Brown,
This is response to your resignation letter dated December 20th, 2015. This is to inform you that the Management has accepted your request for the same and has decided to relieve you from the services of ABC Corporation Pvt. Ltd. as Senior Marketing Executive at the close of your normal duty hours on January 10th, 2016.
The same has been conveyed to the Accounts Department and all the financial formalities that include your full and final settlement etc. will be taken care of once you have submitted your No Dues Certificate. We also appreciate you for the feedback through the Exit Interview. Please find enclosed your Service Certificate with the letter.
If you have any queries and doubts then please feel to get in touch with the HR department.
We wish you all the very best in all your future endeavors.
Robert Wills
HR Manager
ABC Corporation Pvt. Ltd.
When there are some new openings in a company then the company often prefers to have existing employees for the job rather than recruiting new people from outside as they have complete understanding of the company's culture and working. Any employee who is interested in the profile can send a letter of interest to the HR department simply by applying for the promotion. This is one of the best opportunities in order to take your career to higher levels by showing interest in the opening.
Here are some guidelines which must be followed while writing letter of interest for a promotion. Keeping these points in mind can help you have a properly framed professional letter which can eventually help you get selected for the desired opening.
It is very important that you address your letter of interest to the right person. Find out the right person who is responsible for recruiting the best candidate for that profile and address it to him.
Simply sending the letter is not enough. Make sure that you attach with it your recent resume which has mention of your achievements and performances.
It is very important that your letter of interest is grammatically correct and has no spelling mistakes. Before submitting it, read it to make sure that there are no such mistakes and the language is also correct.
As soon as you come to know that there is an opening, waste no time in sending your letter. This is so because the person who is earliest to send his letter is considered as the most interested one. So to keep chances of selection in your favor, write the letter of interest immediately, without wasting any time.
Make sure that the beginning of your letter talks about your purpose of writing the letter. You must mention your interest in the promotion. You are suppose to be introducing yourself. Talk about since how long you have been associated with the company, mention your current profile. Your information should be complete so that the HR manager doesn't have to look for your details in personnel file.
Your letter should include reasons as to why you are the right choice for the profile. Clearly state what qualities and achievements make you a competent candidate for this job and for handling these responsibilities. You should mention your skills and experience and how you can play an important role in helping the company meet its goals. Also talk about your additional certificates or degrees which again make you a stronger choice. Talk about your achievements in the company.
Seek permission for mentioning references
If you have come to know about the opening from a co-worker then mention his name in the letter only after you have asked for his permission.
While ending your letter, make sure there is a call to action. You must thank the HR for taking out time to consider your request and also suggest the time and date for a personal meeting in order to discuss the application in a more refined manner.
Follow these points and you will be able to frame a perfect letter of interest.
Sample Letter of Interest for a Promotion
Here is a format sample of letter of interest for a promotion which you can use in a customized manner to write your own letter.
Adam Smith
22, Richmond Street,
New York 1234
Date: 5th January, 2016
Jacob Brown
Human Resource Manager
ABC Corporation Pvt. Ltd.
52 Richmond Street
New York
Sub: Letter of interest for promotion.
Dear Mr. Brown,
I have been informed by Mr. Anthony, Marketing Manager, that the position of Asst. Marketing Manager has become available. I would like to express my interest in this position. I would like to bring to your notice that from last three years, I have been working on the profile of Marketing Executive and have created and implemented various marketing programs on district levels which have proved to be extremely fruitful.
Moreover, when Asst. Marketing Manager was on leave in the month of November 2015, I was the one chosen for filling up this position for the time being. During that duration of one month, I shouldered all the responsibilities with great effectiveness and delivered satisfactory results. My understanding of the profile and exposure of the same makes me a competent choice for the same.
I am looking for a positive response from your end. Please find my resume attached with the letter. I would be happy to discuss my promotion request with you at any time when you are comfortable. You can email me at adam@abc.com or you can call me at 123-456-789.
Looking forward for your response.
Thanking you.
Sincerely,
Adam Smith