Posts tagged "Employee"
There are various reasons for which an employee might require the proof of his address to submit as an important document for official purpose. Being the HR of the company, you might need to frame a formal address proof letter for an employee of your company.
Here is a sample address proof letter for employee which you can use for creating a personalized letter. This example contains all the essential details that should be a part of a perfect letter.
Sample Address Proof Letter for Employee
ADDRESS PROOF LETTER FOR EMPLOYEE
To Whomsoever it may concern
This is to confirm that ­­­­Mr. Richard Brown is working with ABD Bank Pvt. Ltd as Relationship Manager. According to the records of the company, he has been associated with the organization since 25th November, 2012. We would also like to confirm that the present address of ­­­­Mr. Richard Brown is "15 A, IX Block, Harrison Residence Society, New York" as per the Employee Records of the company.
Sincerely
Samantha Smith
HR Manager
Search Sample Formats:
Every company has some employees which fail to adhere to the rules and regulations of the organization and in order to control this deviation, company has to write formal warning letters to such employees highlighting this mistake and warning them for correcting their actions.
If being the manager of your company you also have to write professional warning letters or memo to your employee then use this sample template to create a customized formal letter with important details.
Format for Warning Letter or Memo To Employee
Julia Mars
HR Manager
ABC Corporation Pvt. Ltd.
11, Park Avenue,
New York
Date: 18th April, 2016
To,
Mathew Jacob
42 Richmond Street,
New York
Sub: Warning Letter
Dear Mathew,
This is to bring to your notice that the last month you have proceeded on leave without any prior permission from your supervisor. Such an action is considered as gross negligence of duties and is completely unprofessional in capacity of your profile.
As per company's policy, remaining absent from duties without prior information is a misconduct and attracts strict action. You are advised to take this warning seriously and make sure that such an action is not repeated in future.
You are advised to submit a formal written explanation on your uninformed and unauthorized leaves on receiving this letter or once you resume your work.
Consider this letter as urgent and respond as soon as possible.
Regards
Julia Mars
HR Manager
ABC Corporation Pvt. Ltd.
Search Sample Formats:
At some point in time, every company comes across a moment when some of their employee is leaving the company. Professionally, the company should write a formal farewell letter to the employee who is leaving the company. As the HR manager of your company or as the owner of your firm, you must wish your employee a successful future by writing a farewell letter to him.
Here is a sample farewell letter to employee who is leaving your company. Use this example to write a formal letter to your employee by customizing it as per your need. It is always good to say good bye in a professional way.
Sample farewell letter to employee leaving company
John Smith,
HR Manager
ABC Corporation Pvt. Ltd.
52 Richmond Street
New York
Date: 9th November, 2015
To,
Andrew Reynolds
12 Stella Apartments,
St. Anthony's Street,
New York
Dear John,
It came as a great shock to us when we received your resignation letter stating that you are going to leave ABC Corporation Pvt. Ltd. at the end of November. However, we are very happy for you are leaving us for good and we are hopeful that this opportunity to relocate to California is going to be helpful for your career.
You have been associated with us for five long years and it was great working with you. You have been a great employee and a wonderful team worker. You have always supported and helped your co-workers and juniors. Your dedication towards the organization has been exceptional. We are surely going to miss your great work and your strong plans which have helped our company grow. You have strongly contributed to the organization by working hard with complete focus.
We wish you all the best for your future endeavors. We hope prosperity and growth for you.
Sincerely,
John Smith
HR Manager
ABC Corporation Pvt. Ltd.
Search Sample Formats:
It is extremely important to understand for any organization that acknowledging the good work of your employee and appreciating him for the same is very important to ensure long lasting performance from the valuable staff and to have an organization that grows and prospers. If you also have an employee in your firm who has handled some project too well or who has delivered remarkable performance then you must write an appreciation letter appreciating his good work. This will make him happy that his efforts have not gone waste.
If you don't know how to frame such a letter then here is a sample example given below. This is a professionally written formal appreciation letter appreciating and motivating the employee for good work. Use it to customize as per your need and draft your own letter.
Sample appreciation letter to employee for good work
Julie Robinson
Marketing Manager
Avon Technologies
1234 Basil Street
New York
Date: 04.9.15
Adam Smith
23 Herald Apartments
New York
Dear Mr. Adam Smith,
I would like to congratulate you on behalf of Marketing Department of Avon Technologies on successfully completing the S-65 project. I would like to appreciate you for your marvelous performance. The endless hours that you have put in working on this project and the level of professionals that you have exhibited have made the entire team feel proud. We are extremely happy and honored to have you as the Project Manager.
We have been keeping a close watch on every stage of this project and we have seen that you have been a great planner, executor and leader. You have worked with utmost commitment, diligence and enthusiasm and the same was observed in your team as well. You have always worked with a positive approach because of which you have been able to manage and complete such a difficult project that too within the promised time frames.
We have another project in the pipeline which also demands same kind of dedication and commitment. We would be happy to appoint you as the head of it because seeing your working the company is sure that you have the ability to accomplish it. We would like to appreciate you for all the efforts you have put in to make this project come live.
We hope that you would impress us with your amazing performance in future as well.
With best wishes
Sincerely,
Julie Robinson
Marketing Manager
Avon Technologies
Search Sample Formats:
To motivate the employees to work better and to retain their services, you must always appreciate them for their good work. It is the sweetest gesture that infuses new energy in the employee by acknowledging all the efforts he has put in. If you feel that an employee has made a remarkable contribution to your organization then you must write an appreciation email to him appreciating his good work.
Here is an example sample appreciation email which is the perfect blend of appreciation and motivation. Use this format in a customized manner to create your own personalized email to acknowledge, appreciate and motivate the work of your employee.
Sample appreciation Email to employee for good work
Sub: Appreciation Letter
Dear Mr. Sam Brown,
The purpose for writing this email to you is to congratulate you on successfully completing the New York Marketing Project. ABC Corporation Pvt. Ltd. is proud to have an extraordinary hard working and committed employee like you. You have always been a star performed and you have always completed all your projects on time with best results.
I would also like to share that we have received many compliments for you from our clients who have praised your working style. We are extremely delighted to have a wonderful and valuable person like you in our organization. You have always traveled an extra mile to meet your targets. With your dedication and professional approach, you have been able to take our company to a higher rank by working really hard on the New York Marketing Project which in turn has brought lots of fame to the company. Because of your contribution, we are able to have increased sales and a pool of happy and satisfied clients.
You have not only been a remarkable performer but you have also been an impressive leader. It is the result of your guidance and leadership that your team has been able to deliver such an enticing performance. With your commitment and diligence, you have taken ABC Corporation Pvt. Ltd. to new levels. On behalf of ABC Corporation Pvt. Ltd., I take this opportunity to express gratitude towards your hard work. I would also like to wish you all the best for all future endeavors. May you keep performing better in years to come.
Sincerely,
Samantha Gibs
Asst. Manager
ABC Corporation Pvt. Ltd.
Search Sample Formats:
Whenever a new employee joins a company, it is the duty of the management to welcome him with open arms and announcing his arrival publicly. This is a way of formally informing the other staff about the entrant, his profile, the work he is going to do etc. This also includes the date of joining. This is nothing but a way of informing.
If you are in the management of your company and you are suppose to be framing a letter for announcement of new employee joining your company then you must have a look at the sample format given below which takes into account the right way of writing such letter. Use it in a customized way to create your personal letter.
Sample Letter for Announcement Of New Employee Joining
Date: 26.08.15
Dear Staff,
This is to inform you all that Robin Smith is joining ABC Corporation Pvt. Ltd. to fill our vacant position in Marketing Departments as Assistant Marketing Manager. His first day will be on Tuesday, August 1st, 2015.
Robin possesses a rich experience in the marketing field and we are happy to have him in the marketing team of ABC Corporation Pvt. Ltd. If you get to see Robin in the premises, be sure that you welcome him to the organization. For the first few weeks, he is going to be participating in the orientation program and on boarding activities.
Mr. James Mark is going to mentor Robin and if you have any question or you need to meet Robin then you can speak with James before he joins the company.
Robin will be working in the Marketing Department and going to assist the Marketing Manager in all important decisions and plan implementations.
Thanks for joining me in welcoming Robin to the company.
Regards
Amanda Joseph
HR Manager
ABC Corporation Pvt. Ltd.
Search Sample Formats:
There are all kinds of employees in an organization. Some are amazing performers, some are average and some are poor at delivering the desired performance. If you have such an employee in your company which is unable to deliver expected results then you must write a warning letter asking him to work with dedication and commitment so that he is able to perform. You must also mention that the supervisor or the manager has previously mentioned the same thing to him and brought in notice the dull performance.
Being the manager you must learn how to frame such a letter. Here is a sample format to help you create a personalized letter with all the inputs needed. You can use it as a warning letter to the employee and ask him to increase his performance.
Sample warning letter to employee for poor performance
Date: 27th June, 2015
To,
Mr. Jacob Smith
Sales Executive
ABC Corporation Pvt. Ltd.
Sub.: Warning Letter
Dear Mr. Smith,
This is to bring to your notice that since the time you have joined the company, your performance levels have been below expectations. Every quarter you are given a target by your team leader and you have always failed to achieve it. As a result, you have been listed under the category of poor performers which means that you have failed to perform the duties and attained the targets due to negligence and lack of commitment.
You have been counseled and motivated by Mr. Andrew John, Sales Manager for improving your performance on regular basis. But despite all the efforts, you have been unable to show any improvement which makes yourself liable for required action.
The management hereby warns to work on increasing your performance levels and if you fail to do so then appropriate action will be taken against you.
You are further informed to submit explanation on your poor performance in written once you have received this letter.
Kindly treat this as very urgent.
Regards
Julia Robbins
HR Manager
ABC Corporation Pvt. Ltd.
Search Sample Formats: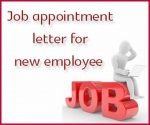 The purpose of writing a job appointment letter for new employee is to inform him that he or she has been selected for a particular job opening in the company. It is a blend of welcome letter and overview letter. This is usually framed by the hiring manager but sometimes other company officials also prepare such letters. This is a formal letter which is full of new hope, motivation and zeal to work to establish a healthy and optimistic working relationship with the new candidate who will soon be a part of the organization.
Here is a sample job appointment letter for new employees using which you can create your own formal letter consisting of all the information.
Sample Job appointment Letter for New Employee
Mr. Sam Jackson
Human Resource Manager
ABC Corporation Pvt. Ltd.
12 Park Avenue
New York
Date: 18th February, 2015
To,
Mr. Sam Brown
12, Richmond Street,
New York
Dear Mr. Brown,
I am really happy to inform you that your name has been selected for the job profile of Marketing Manager at ABC Corporation Pvt. Ltd. This selection has been made based on your rich experience in the same department in your last company and your amazing achievements. The company is also impressed with your educational qualifications. We are extremely pleased to offer you this position in our company. We are hopeful that you will take our company to new heights with your expertise, talent and experience.
Your date of joining the company will be 1st March, 2015. Your first day schedule includes orientation classes at 9 am at our Corporate Office, which is located at 12, 12 Park Avenue, New York. When you arrive then you must check at the reception desk. There you will get all the important directions about where you have to go. Once you are done with the orientation sessions, you will be escorted by a team member for lunch and then you will be taken to your new work station. There you will be introduced with your new team and new co-workers. Please remember that our dress code from Monday to Friday is corporate casual clothing.
In your new position, you will be responsible for planning and managing sales in the allotted geographical area. You will be responsible for heading all the marketing activities in your area. You will be heading a team of 10 people and you will have to plan, direct and manage their performance. You will have to travel to different locations that come under your management to ensure that the company sales are on increase. As mutually agreed, your salary for this post will be $ 80,000 per year. You will also receive benefits and bonus depending upon your performance.
We are really very happy to have you in our company. Please confirm this selection formally in an acceptance letter. You may either mail us your acceptance via mail at mail@mail.com. You can even call me at 123-456-78, in case you have any questions. We look forward for working with you.
Sincerely,
Sam Jackson
Human Resource Manager
ABC Corporation Pvt. Ltd.
Search Sample Formats:
Warning letters are written by employer in order to bring in notice Here is the process of writing a warning letter to employee which ensures a disciplined behavior.
Step 1
Show you concern over the deficiency in performance. Mention about the indiscipline noticed by some person over the behavior or actions of the other.
Step 2
Mention about the specific expectations for performance which have been laid out by the organization. There can be a reference of the clause mentioned in the terms and conditions mentioned by the company.
Step 3
Ask the employee to present clarifications and answers in response to the letter stating the reasons for such behavior.
Step 4
Do mention the time deadline within which the employee is suppose to respond. If he fails to respond then he will assumed as the offender and required action will be taken against him.
Step 5
Make sure it is signed by the authorized person for authenticity.
This is a short and simple process for writing a professional and crisp warning letter to employee containing all important information and details.
A voluntary termination letter to employee is a formal letter sent by the employer to the employee in response to his letter of resignation that he wishes to leave the company. This response is to acknowledge and accept the resignation. It may be based on a mutual agreement or may be initiated by any one party.
Such a letter should contain all the important details like the date of termination etc. to ensure that it is complete in every sense. If you are an human resource manager at some company and you have to write such a draft then use the sample template given below as the basis of creating your own letter.
Format of Voluntary Termination Letter to Employee
Date: 3th February, 2015
Mr. Sam Jackson
Human Resource Manager
ABC Corporation Pvt. Ltd.
12 Park Avenue
New York
To,
Mr. Sam Brown
52 Richmond Street
New York
Dear Mr. Brown,
This letter is to confirm that we have received your resignation letter on January 14, 2015. According to that letter, you wish to resign from the post of Marketing Executive at ABC Corporation Pvt. Ltd., effective February 1, 2015, to pursue further studies at Michigan University. We accept your resignation and confirm that your employment with our company will be terminated on February 1, 2015.
As mentioned in your letter, the reason for quitting ABC Corporation Pvt. Ltd. is that you wish to pursue a Master degree in Business Administration which will be a wonderful addition to your skills and education. We encourage and support your decision to study further and accomplish your career goals. We highly appreciate your dedication and loyalty which has impressed us for two long years. Moreover, if you wish to join us after your MBA, we will be happy to have you back in our organization.
I would be really happy to have the opportunity to conduct an exit interview with you during the last week of January which will also be your last working week with the company. You may call my assistant at 123-45678 to fix an appointment for exit interview. Hopefully, we are able to schedule it at some mutually beneficial time which is convenient to both of us. In case, you are unable to visit my office for the interview then please let my assistant know about it so that she can mail you a written form which you can fill and send without having to visit in person.
I request to please return all the company owned properties and written communications in your possession on your last working day with the company. The last paycheck will be sent to you on February 15, 2015 along with other documents. In case, you have any further queries or doubts, please feel free to get in touch with me.
Sincerely,
Sam Jackson
Human Resource Manager
ABC Corporation Pvt. Ltd.
Other Related Post to Termination Letters
Letter of Termination for Cause
Employment Contract Termination Letter
Sample Early Probation Termination Letter
Job Abandonment Termination Letter Sample
Sample Wrongful Termination Letter To Employer
Employee Termination Letter Due to Poor Performance
Sample Employee Termination Letter for Theft
Sample Termination Letter for Insubordination
Search Sample Formats: