Posts tagged "Boss letter"
If your boss is leaving the organization then you must take out some time to write a personalized letter addressing him, giving him farewell and wishing him good luck for his upcoming ventures. It is essential because boss is like a mentor who guides you and helps you achieve the impossible with his leadership and when he is leaving the company, you must thank him for his support and give him a heartfelt farewell.
Here is a sample farewell letter to boss who is leaving you. Use the sample example to create a formal and personalized letter which is a great way to thank him and make him feel special.
Example of Farewell letter to boss who is leaving
John Smith
Deputy Marketing Manager
ABC Corporation Pvt. Ltd.
52 Richmond Street
New York
Date: 7th November, 2015
To,
Andrew Reynolds
12 Stella Apartments,
St. Anthony's Street,
New York
Dear Sir,
The day has arrived and it is time for me to say good bye to you. I would like to thank you for all your support and guidance that has helped me climb the ladder of success. My professional and personal success is incomplete without your mention.
Since the day I joined ABC Corporation Pvt. Ltd., you have been my mentor. You have been my guiding light as I was a fresher with no experience and it is because of your guidance I was able to learn things a better way. I express my gratitude for all the training sessions, for all the planning techniques that you have taught me for these years. It is because of you that I have been able to learn so many things and grow as a person. I know you are going to leave us all but I am very happy for you as you are going to join another company and add new chapter to your career. With a heavy heart, I am bidding you goodbye. We are all going to miss you a lot.
I will work hard to utilize your guidance, experience and skills that I gained under your leadership in my new position.
Please keep in touch and you can always email me at john@abc.com. You can also call me at 1234-5678.
Wishing you all the very best for your future endeavors.
Thanks for your support.
Sincerely,
John Smith
Deputy Marketing Manager
ABC Corporation Pvt. Ltd.
If there is some kind of situation about which you have an opinion then you can always share it with your boss. Because he is your boss, he will surely understand your viewpoint and will also put it forward with the management. There can be anything trivial or important which needs attention and making a suggestion about it is a wonderful thing to do. In order to do that in a formal manner, you must frame a professional suggestion letter addressing your boss.
Here is a template example of sample suggestion letter to boss which can be used for framing a formal draft customized as per your own requirement to put forward your idea or advice for betterment. Keep the tone formal and polite and provide necessary information about the situation.
Sample Format of Suggestion Letter to Boss
Bob Marlow
55 Raymond Street
New York
Date: 11th May, 2015
Richard Smith
Managing Director
ABC Corporation Pvt. Ltd.
Harry Park, Herald Street,
New York
Dear Mr. Smith,
With this letter, I want to bring your attention to one every important observation that I have made in our department over last couple of weeks.
As you are aware that in the last one year, there has been a sudden increase in the numbers of people leaving the organization and most of them belong to our marketing department. I did an observation on my personal level and have found out that the targets given to new recruits are way too difficult for them to achieve. Despite all the training and support from the supervisors, they are unable to meet the targets because of which they fail to perform and ultimately start looking for better opportunities. As a result, we have been facing lots of staff crunch as very small percentage of new employees is able to achieve the goals and sustain in the company.
I request you to please consider my observation and revise the targets for the new employees and see the difference. I am sure we will have more people staying back. Moreover, we can have their targets increase gradually so that they are always focused about their performance.
I would really appreciate if you could consider my suggestion and bring this change in our team for better performance. If needed then we can sit and discuss this scenario with other team leaders and then have a common consensus on it.
Thank you. I will be waiting for your response.
Sincerely,
Bob Marlow
Team Leader, Marketing Department
ABC Corporation Pvt. Ltd.
If your boss has responded to your intent for promotion in a positive way then it is a good gesture to write a formal thank you letter expressing your happiness and gratitude on his decision. Once you have accepted the promotion, do not forget to write a personalized thank you note in a sincere and thanking tone. Make sure that you send this letter within one week of accepting your promotion and for sure your boss will be impressed with your manners.
Guidelines for Writing Professional Thank You Letter to Boss for Promotion
If you are not aware of the right way of writing a thank you letter which is correct in its tone and feel there here are some of the guidelines which you must follow while framing the letter to the best of your capabilities.
It is always good to write a personal letter
In this era of technology, if you can manage to write something on your own then it is really very thoughtful. Make sure that you use either blue or black pen to write a formal letter on plain note cards or you can also use a business letter format. In case, you don't have good handwriting, you can use the technology.
Be sure of the tone of the letter
You need to know how formal or informal your bond is with your boss as that will decide the tone of your letter. If you get to meet your boss on daily basis then you can keep the tone slightly informal as you share comfortable bond with him. But in case you have quite formal encounters with him once a week or so then you must keep the tone strictly formal.
Thank your boss in first paragraph
In the very first paragraph, you should begin with thanking your boss for promoting you to the desired profile. Express your joy and enthusiasm by using the right set of words in your note.
Be more descriptive in the second paragraph
In the next paragraph, you need to get more specific about the position that you have been offered. You should also talk about the role your boss played in getting you that position. Do talk about his support, if any, and how it helped you achieving the position that you have worked for.
End the last paragraph by thanking your boss again. Express your appreciation for his sweet gesture in the best of the words.
While ending your letter, make sure that you use an appropriate closing like "Yours sincerely" or "Regards" and do not forget to sign after that.
Now once your note is ready, you need to send it by the right delivery mode. You can either leave it on his desk or hand it over to him personally. You can even mail it to him. You need to decide how you want to send it.
This is the complete process of writing a good thank you letter to your boss.
Other Related Thank You Letter
Thank You Letter from Supervisor to Employee
Supervisor is the person who knows the best about the performance of the employee. But it is not an easy job to gauge the performance. Supervisor has to be very smart at measuring the performance.
Thank You Letter for Leave Approval Sample
When an employee joins an organization, he is given a certain designation to perform his role. Over a period of time, if he is performing well and additional responsibilities are given, he may be given a change of designation.
10 Things To Keep Out of An Interview Thank You Letter
Once you are done with a job interview, it is time to send a formal Thank You email or letter. But you can actually hamper your performance if you include certain things in your letter which should be avoided.
Thank you Letter for Gift from Company
A gift always makes you feel special. If you have received a gift from some company then writing a business thank you letter is a sweet gesture.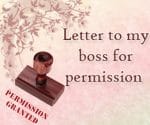 Permission letter is one of the most common letters that is written with an intention to seek the permission from a person to grant an authority to take some decision or to do something. When you are writing a professional letter to your boss seeking permission for something then make sure that it is addressed to the right senior who has the power to grant you the permission. Keep the tone polite and make sure that you state everything very clearly to avoid any confusion.
Here are a few steps or guidelines that will help you create a perfect formal letter seeking permission from your boss.
Always Mention the Subject
It is important that you make the subject of your letter clear before even starting with the letter. It is a great way of informing the reader well in advance about the subject that you are going to discuss in the letter. This will make it very easy and quick for him to read it and understand it without any confusion.
Address it to the Right Person
When you are seeking the permission, it is essential that you pen it to the right authority. This will ensure that you are able to get the permission that you are seeking without any hassles. In case you are not very much clear about whom to address your letter to then it is always safe to write "Dear Sir or Madame" or "To Whom It May Concern."
Once you have begun writing the letter, the next important step is to write the thing for which you need the permission. When penning this down, you must learn to write the reasons, purpose and all other related information of the event for which you are asking for authority. Make sure that you frame your request keeping in mind all the details so that the person to whom it is addressed doesn't find any important information missing from it.
Mention Your Contact Information
Before ending the letter, it is important to mention your contact information in the letter which should include your phone number, mobile number or email id so that the person can get in touch with you without any problem.
Now that you are done writing the letter, close the letter with a "Thanking in anticipation" note followed by "Sincerely". Put your name, designation along with your signature to complete the letter in a formal way.
Keep the Tone Professional
It is very important that you maintain the tone of the letter. Keep it very much professional and to the point. No need to provide any kind of unnecessary information in your letter. It has to be short, sweet and formal.
Follow all these guidelines in framing a professional letter to your boss seeking permission for something that you wish you do.
Other Related Post to Permission Letters
Sample Copyright Permission Letter
If you are planning to use any kind of copyright content or any other thing in your presentation, paper or for any other purpose then you must write a professional permission letter seeking the permission from the company or person to use it.
Sample Request Letter for Permission to Interview
Whenever you are planning to interview some personality then the official way of going about it is seeking permission to interview by writing a formal request letter.
Permission Letter to Leave Office Early
There are times when you need to leave the office early. For instance, it is your wife's birthday or you have to attend some function.
Sample Employee Termination Letter for Theft
Human Resource Manager needs to be really very smart and skilful when it comes to writing an employee termination letter for theft.
Search Sample Formats: