Others
Before having any student work as an intern in the company, it is important to have all the information before allowing the student to join the company as an intern. For that, an organization needs to have a well structured format for consisting of all the headings under which a company needs information from the student in order to have all the details concerning him. The purpose of this format is to have basic details like contact, address etc. about the candidate.
Here is a format which you can use to create your personalized form to get intern's information.
STUDENT (INTERN) INFORMATION
S.No.
Particulars
Details (To be filled by the Student)
1
Student's Name
2
Internship duration
___________ to __________
3
Student Contact Information
Address:

____________________________________

____________________________________

____________________________________

____________________________________

4
Phone (Home) & (Mobile)
5
Emergency Contact Number
6
Email
7
Educational Qualification
8
Main Subject
9
Primary Activities of Internship
Intern (Student) signature
Date:
Place:
Performance review is an important HR process which is done in order to gauge the performance of an employee and compare it with the standards. This brings clarity in his working and also tells whether he needs to improve or he is performing decent.
Being the HR Manager of the company, you may have to evaluate the performance of the employees every year and then send them a letter in writing consisting complete review of their performance. If you don't know how to go about framing such a draft then here is an example sample to help you deal with the situation. Use it as reference for writing a customized letter in a professional way.
Sample Performance Review Letter with Evaluation Results
Mathew Jacob
HR Manager,
XYZ Development Bank
42 Richmond Street,
New York
Date: 13th July, 2015
Julia Mars
11, Park Avenue,
California
Re: Annual Performance Evaluation for 2014-15.
Dear Mr. Mathew Jacob,
This letter brings to your notice the evaluation of your performance for the period of one year from 1st July, 2014 to 30th June, 2015. It studies and analyzes your contribution to the marketing department as senior marketing executive. It also contains remarks from your team leader on your performance and progress for this period.
Your performance has been analyzed based on the following areas: Achievement of Targets, Professional Responsibility and Professional Development.
Achievement of Targets
It takes into account how well you have been performing based on accomplishment of targets that were set for you by your supervisor. It is very important to achieve these targets as it is an essential part of performance.
For 2014-2015, you have been able to accomplish all the targets. This means you have achieved the very first criterion effectively. You have performed as it was expected of you.
Professional Responsibility
It takes into account your conduct as per the rules and regulations of the company. It also includes traits like dedication, commitment and loyalty towards your organization which directly or indirectly affects your working.
For this criterion, you have exceeded the criterion by delivering results beyond expectations. You have followed all the rules of the company and the instructions given by the seniors. You have worked with complete dedication and sincerity which reflects in the quality of your work.
Professional Development
This criterion takes into account the promptness of attending new courses for skill development, for learning new techniques that are helpful in professional development.
For the year 2014-2015, you have attended just one seminar on marketing which means that you need to improve in this area as it is below the significant level. You are recommended to attend more workshops and training sessions that can help you improve your present skills.
Overall Performance
Based on the evaluation results mentioned above, your overall performance can be ranked as satisfactory. You have achieved all the criteria effectively. The only recommendation is to attend more training programs to develop more skills.
Regards
Mathew Jacob
HR Manager,
XYZ Development Bank
Search Sample Formats:
Performance of a company is directly proportional to the performance of an employee. Hence, it is essential for the managers to ensure that their employees are performing well. They also need to know different strategies which are effective in keeping the moral of their employees high so that the team can deliver impressive performance. Happy and positive team always enhances performance and dull and disgruntled team always delivers unsatisfactory results.
This article unfolds some of the most amazing tips that are very effective in keeping the spirits of your team members high and motivates them to enhance their performance levels. Let us see what these tips are.
Always Praise Good Work and Achievements
Whenever a person does something good or achieves something, he wants people around him to acknowledge his efforts. Likewise, it is important that a manager tells his employees when they do some good work. Complimenting these team members at the meetings or writing a personalized note acknowledging their good work is a sweet gesture which makes the person feel that his boss knows about his work and has liked what he has done.
Wishing at Special Occasions
If you wish your employee of his birthday, anniversary or some other important events of his life like becoming a parent etc. then it is something really very small but has a wonderful impact on the person. It is all about making him feel special on his special day. Having a 5 minute cake-cutting ceremony in office on someone's birthday or sending a greeting card on someone's anniversary is just a thoughtful action.
Handover Responsibilities
Another important thing that managers can do is that they can handover more responsibilities to the employees. They will not only feel empowered but they will also feel as important part of the organization.
Presence of Top Management for Employees
If the top management is available for the employees then they feel secure and comfortable as they know that they are important to the company. If they feel comfortable in approaching the management for their problems then feel comfortable because they know that they have the administration to listen to their complaints, advices and suggestions and will surely help them have solutions.
Ensure Comfortable Work Area
It is very important to have a work area that is comfortable. If the basic facilities and amenities are missing in the setup then employees feel that their basic needs are not been taken care of. For instance, if the washrooms are not clean or if there is no proper ventilation or if there is no drinking water available in the office, all these things cause discomfort and are a disappointment.
Ensure Transparency
It is good for the company to maintain transparency in working. In this way employees stay informed about what is happening in the organization, what changes are taking place in the system and this way they feel they are a part of the organization. If company fails to do so then they will always feel that the management is hiding something and they will waste their energy in looking for information. Hence, they will never be able to have a bond of trust with the company.
Perks and Benefits
Good companies surprise their employees by giving them some perks and benefits which make them happy. Giving them cash benefits, holiday packages and bonuses are some of the things which are loved by every employee.
As a manager, you can use all of these tips to keep the moral of your employees high. By using these tips, you can actually strengthen the bond that you share with them by making them feel like a family. This way your employees will work for the company with greater zeal and energy.
Whenever a person leaves an organization or institution, he is suppose to attain a No Dues Certificate from the management which states that he is not required to clear any dues and is free to leave the organization without any charges on him.
If you are the department head or supervisor with a company and you are required to sanction such a certificate for one of your employee who is leaving the company to the HR manager then here is a format to help you. Use this sample to create a formal customized no dues certificate which consists of all the required details. It is basically a very short and crisp document.
Sample No Dues Certificate Format
ABC Corporation Pvt. Ltd., New York
Marketing Department
Date: 04.06.15
NO DUES CERTIFICATE
To,
The Manager
Human Resource Department
ABC Corporation Pvt. Ltd.
New York
This is to certify that Marketing Department has 'NO DUES' against Mr. James Smith, Marketing Executive at ABC Corporation Pvt. Ltd.
Authorized Signatory
Adam Samules
Manager, Marketing Department
Search Sample Formats:
We all are humans and so we have prejudices and biases which become a part of our working and we don't even know how. That's the reason managers sometimes make mistakes while analyzing and evaluating the performance of their employees because they let their biases and judgment errors interfere with their decision. As a result of which, the process of performance appraisal gets spoiled. These biases are inaccurate distortion of performance measurement.
This article talks about different types of performance appraisals biases which are generally observed. Let us study each one of them one by one to find out how they affect the decision of the managers.
HALO EFFECT
This effect comes into picture when a manager measures the performance of an employee based on some of his perceived positive trait, characteristic, quality or feature. As a result, he ends up rating the employee either too high or too low in other features depending upon his ranking in any one trait which influences other traits. In case, the worker has been absent from work at few times then while evaluating the performance, manager ends up rating him high in other areas which affect his overall ranking.
PRIMARY OR FIRST IMPRESSION EFFECT
As the name suggests, this affect arises when the manager forms an overall impression about the individual he is evaluating for performance based on one particular feature of the individual defined by him. As a result, the performance evaluation gets affected because it doesn't provide a proper base for evaluating the performance.
TOO MUCH OF LENIENCE OR STIFFNESS
It is quite natural to rate people on your own standards or values or our own mental makeup when we are evaluating. When managers are evaluating the performance of employees at the time of appraisal, they either rank them too strictly or too casually. It is natural for some supervisors to rank people high and some rank people with stiffness. This is so because the former kinds of people prefer taking the line of least resistance and the latter are very particular with rating and hence take assessment too seriously because of which they end up being extra strict. When supervisors rank individuals casually then the system becomes ineffective because there is no differentiation between those who perform well and those who perform average as everyone is enjoying high ranks.
HORN EFFECT
In this kind of performance bias, managers evaluate employee's performance based on any one negative quality or the feature that they have perceived in their minds. Due to this, they end up giving a lower rank to the individual without taking into consideration other points which are actually related to the performance.
PERSONAL BIASES
This is yet another very common bias which is quite natural to happen. The way the supervisor feels about every person who works under him will always influence the appraisal. If he dislikes someone then obviously he is going to rank him negatively and vice versa. There can be various reasons for personal biases to occur. It can happen as a result of feedback from other employees, social background or family culture of that particular person.
RECECY EFFECT
In this bias, the individual is evaluated on the basis of his recent behavior or performance. The manager ends up forgetting his overall performance during a particular period and just keeping his recent behavior in picture while evaluating him which often leads to wrong ratings.
SPILLOVER EFFECT
In such a bias, supervisors tend to evaluate the present performance of an employee based on his past performance. For instance, if the person has not been a good performer then it is presumed to be a bad performer in the present times and vice versa.
CENTRAL TENDENCY
In this kind of bias, while evaluating and analyzing the performance, appraisers end up rating all the individuals as average performers. They neither rate anyone too positive nor too negative; rather they maintain a central tendency. This again hampers the evaluation process as there is not much difference between an average performer and an excellent performer.
All these performance appraisal biases interfere with the process and distort the results.
ID proofs and address proofs are very important in day to day routine. Government has given the gazetted officers the responsibility of writing letter to authorities for different purposes mentioning the address and identification details in a sorted format.
Here is a sample example for your reference to help you frame a format which contains all the necessary details concerning the candidate in order to miss no information.
Format for Letter
This is to certify that Mr. Adam Smith S/o Mr. Robert Smith is residing at H. No. 12, Greenfield Apartments, Richmond Street, New York and he is working with ABC Insurance Corporation Ltd., 52 Andrew Street, New York. His personal particulars as given in this letter as correct to the best of my knowledge.
This letter is to be used for the purpose of obtaining PAN Card.
Search Sample Formats:
Customer service representatives are one of the few job profiles which are very common. In the present times, almost all businesses which have direct interaction with customers need customer service representatives to deal with consumers. This makes it one very common job. And because it doesn't require any major educational qualifications, more and more people are attracted towards it. Hence, if you are planning to apply for this job then it is sure that you will have to face intense competition as people who have more experience than you will always have brighter chances of getting selected.
To help you get selected, this article brings to you a smart trick which can help you get the attention of the recruiter. You can do so by creating an impressive customer service representative resume. Though there is no formal education needed for this job but employers prefer those candidates who have completed their basic high school education. To create that impression, you need to have reasonable amount of experience on the same profile or in the sales field, this will help you earn extra points. Let us have a look at all the points that must focus on while designing an effective resume for this job profile.
Start with Professional Summary
You should create that desirable first impression with a beautifully framed professional summary which should contain a brief note on your experience and skills which make you a strong contender for this post.
Talk About Your Areas of Expertise
The next point on which you should concentrate is your strength which you should reflect by mentioning your areas of expertise. Use bullet points to talk about all the work that you have been doing. Highlight some quality or strength of your working which will help you create a strong image of your working style. This needs to be framed with an intention to highlight your working.
Professional Experience
Mention about all the companies for which you have worked along with the profile on which you have worked. It is important that you discuss all your jobs one by one in a chronological order. Make sure that you include all the information in an easy to read format. Use this column to talk about all the roles and responsibilities that your job demanded you to perform. This is the best way to mention everything that you have done in past so that the employer feels that you are perfect for the post of customer service representative. It totally depends on your skill that how effectively you discuss your jobs and key roles to get optimum benefits.
Education Qualifications and Certificates
This would be the last important column on which you need to focus. Talk about your education qualification along with any kind of certificate course that you have done that can be helpful in getting you this job. For instance, if you have done some computer course which makes you more competent for this job then mention it.
Using all these points smartly in your resume can help you impress the employer. Make sure that all the information that you are providing is correct without any exaggeration and for sure you will be able to get selected.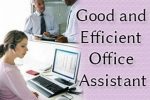 People generally think that becoming an office assistant is no tough thing as you don't need to have some specific educational qualification and all you need to do is follow the instructions given by your boss. But the reality is way too different. You need to know that to be an efficient and smart office assistant; you need to possess lots of skills so that you can manage your work without errors. Some of these skills have been mentioned in the article below and others you can only learn once you are in the real setting, handling the real stuff. So, to be really good at it, you need experience which can really help you impress your employer.
For the post of office assistant, you don't need any specific educational qualification. But there are various skills that you are required to possess to make your daily working easier and more rewarding. Let us have a look at some of these skills which will help you have a rocking performance at job.
Skills Required by an Office Assistant
Technical Skills: To be able to work with greater efficiency using the latest technology. He needs to be technology friendly person to be able to absorb the recent trends in technology when it comes to managing work. He should be able to use internet and various other digital equipments for effective working.
Skills to Help: He should be prompt at helping people. Be there to support the top management with assistance required by them. Be ready to supervise the juniors to ensure everything goes right.
Skills to Multitask: He should be able to do many things at the same time. Receiving the phone call while working on the computer and simultaneously doing some third task. He really needs to know how to handle different tasks with efficiency.
Filing and Record Keeping: He should know how to manage and maintain different files and records. Update them from time to time and keep them fresh, ready to use.
Calendar Maintenance: He should know how to manage the calendar for different employees to ensure that there is no work loss in case of absence of an employee and work doesn't get held up.
Communication Skills: He should know how to maintain smooth relationships between employee and the client. He should be very pleasant at handling different kinds of phone calls, transferring them and taking their messages. He should also know how to conduct public communications.
Skills to Coordinate: Should be smart at establishing coordination between different things happening in the office.
Data Entry Skills: He should be quick and correct with data entry on the system. He should know how to use computer to effectively accomplish the task. He should be able to scan the documents, store them at the right place on the system, send mails to clients and read their responses to the employer along with replying them at the earliest.
Mail Delivery and Screening: Should be able to send mails to clients and keep a track of their delivery.
Skills to Maintain Confidentiality: It is important for him to know how to maintain confidentiality on certain procedures and deals.
All these skills make you a good and efficient office assistant. To be able to have a smooth working, you really need to work hard on strengthening each of these skills.
Making a sale is not easy and hence the job of sale associate demands lots of skills to make sale happen. If you are planning to apply for job for the profile of sale associate then you must know all the skills that you need to possess in order to fulfill all the roles and responsibilities that are expected out of you. A perfect candidate for the profile of sale associate will be the one who can provide support on sales floor, communicate with the customers, resolve their problems, clear their doubts and also provide required assistance at the point of sale. A person who can resolve all the obstacles that are interfering in the sale is a great choice for such kind of a job.
There is no particular educational qualification requirement for this job but having being trained as sales personnel can really help you have an extra edge. Moreover, if you possess experience in the same field then you surely have better chances of getting selected.
This article brings to you all the important skills that you must possess as sale associate in order to perform all your duties with perfection.
Communication Skills: In order to communicate with the customers and satisfy all their queries and doubts in the most pleasant and easy to understand language. To be able to persuade them to buy your products. To be able to communicate your goals to your team for better performance. To be able to have clear and regular communication with seniors and juniors for better working.
Networking Skills: To be able to work with co-workers, juniors and seniors in coordination by sharing information and establishing a strong network.
Multi-tasking Skills: In order to perform different tasks at the same time. It is important for a sale associate to handle different things at the same time and perform each one of them with perfection. Be it making the bills, talking to customers, resolving their questions or anything else; they need to know how to deal with all of them simultaneously.
Mathematical Skills: To be able to deal with all kinds of calculations without committing any errors.
Inventory Management Skills: To be able to derive the requirements and to be able to receive the inventory. Manage the inventory and placing it at the right place for effective and organized working.
Customer Handling Skills: In order to listen to customers with patience and provide solutions to their problems. Resolve their queries and respond to their needs with efficiency. Work hard to establish strong association with customers.
Skills to Sell: It is very important for a sale associate to know how to make sale happen in a professional way.
Ability to Attain Knowledge: He should have the desire to learn new things. Stay updated about the markets. Be aware of the products and services offered by the company to be able to tell about them to the customers. Be aware of visual merchandizing techniques. Be aware of marketing techniques and different styles of selling to ensure the best of the sales.
Administrative Skills: To be able to manage the show single handedly with perfection in case there is shortage of staff.
Record Keeping Skills: Ability to manage and maintain all the records without missing on anything.
All these skills together make a potential sale associate. If you don't have any of these skills then you must work hard in order to increase your performance and impress your employer.
Project manager is one person who is responsible for managing a project on the whole. There is a large variation in his duties and roles from one industry to another and one company to another. Hence, there is no such very specific list of duties that are performed by a project manager. But there are certain key duties and responsibilities which every project manager has to perform.
This article brings to you all those key duties which every project manager must perform in order to be successful. These set of duties are very much helpful for him in carrying our various other duties that he is expected to perform.
Planning
This is one of the most important duties of a project manager. It is for him to create a plan of action depending upon what needs to be accomplished, who will be working to accomplish the task and what are the requirements to make it happen. These are some of the planning areas in which he needs to be involved so that he is able to chart out everything using his planning skills. But it is not a onetime task but it goes on throughout the project. This is very important in bringing clarity in the project and its objectives so that the team can work with a clear state of mind and knows what it is suppose to do.
Organizing
This is another very essential duty that you have to perform as project manager. It is about undertaking all the tasks concerning your planning and creating a team structure accordingly so that all the tasks can be accomplished in a clean and clear manner. As a project manager, you are required to allot all different kinds of resources into various heads keeping in mind the structure of the company. You are required to identify different roles, positions and responsibilities. List out all the services that will be provided by external sources and also define a structure of your project team in order to bring clarity of roles one needs to perform.
Leading
Project Manager must be a good leader. He needs to know how to put his plan into execution so that he is able to achieve his project objectives. He needs to take all of his team together as one entity and motivate them to deliver the best of their performances in order to meet the objectives. For this, he needs to have soft skills like clarity in communication, ability to motivate his teammates, act as problem solver etc. Leading the team is very important to give directions to the team and assign tasks to each team member so that there is coordination in work.
Controlling
Another role that you are required to perform as the project manager is making sure that your project is meeting all the standards that you had set for it. It is very important to ensure at every step that your project is on track and work hard to keep it on the right path. To do that, you need to follow a simple process which includes three steps:
Measure the performance
Evaluate the performance by finding out causes for deviation from standards
Taking corrective actions to alter deviations
These are the basic duties of a project manager which are very helpful in delivering a high class performance. So if you are planning to apply for this post, make sure you are able to perform all these functions.