Letters
If the employee is not performing up to the expected levels then the Manager has all the rights to ask for employee replacement by writing a formal letter of request to the senior or the HR Manager of the company. Letter of request for employee replacement is a very crisp letter which includes reason for seeking replacement so that the process can be taken into consideration. If you are also in need of employee replacement in your team of staff then you also need to write such kind of a letter.
We have come up with a formal request letter for employee replacement. Use this sample format to write your own letter with perfection.
Format for Request Letter for Employee Replacement
From:
Adarsh Swami
Deputy Marketing Manager
Fullerton Software Ltd.
New Delhi
Date: 11.06.2018
To:
Mr. Rakesh Gupta
Human Resource Manager
Fullerton Software Ltd.
New Delhi
Sub: Request Letter for Employee Replacement
Dear Mr. Gupta,
I am writing this request letter in order to seek replacement of one of our employees in Marketing Department. I am talking in relation with Mr. Sumanth Pant. He is working as my assistant from last nine months.
In my career of eight years, I have never ever filed a complain against any employee but because of very frequent leaves by Mr. Path, I am compelled to seek an employee replacement. He has been going on leaves quite often because of some personal health issues and because of that I have been facing a lot of inconvenience which I feel have led to a fall in my own performance as I have to deal with various trivial issues all by myself.
It is a humble request from you to please have my assistant replaced so that I can work on upcoming projects.
Thanking in anticipation.
Sincerely,
Adarsh Swami
Deputy Marketing Manager
Fullerton Software Ltd.
Click Here to Download Sample Letter Of Request For Employee Replacement in Word Doc Format
Other Related Of Employee Letter
Search Sample Formats:
Being the HR Manager of your company, you are the one who needs to send various letters in relation with recruitment like Appointment Letter for Internship Trainee and selected candidates, Job Offer Letter With Probationary Period etc. Thanks to technology, communication has become really fast and seamless. Therefore, sending Appointment Letters on email is the new trend. HR Managers are sending emails as appointment letters. Not only that, requests for appointment letter or offer letter to HR are sent through emails.
In this post, we have discussed useful steps in writing an email white giving appointment letter along with a sample email appointment letter format for easy reference for the readers.
How To Write a Mail for Appointment Letter?
Here are a few steps that must be kept in mind while sending a mail to the selected candidate along with an appointment letter:
Keep this email to the point and short. There is no need to include any unrelated information in it.
Keep it formal.
Mention the reference number of the application form or the date on which the interview was conducted or the profile or all the above.
Mention about enclosing the Appointment Letter with the email.
Do ask the candidate to sign and send a copy if the candidate accepts the appointment.
Sample Format for Email When Giving Appointment Letter
Date: 04.06.18
Dear Ms. Shikha,
Good Morning!!
This is in reference to your job application form number 1234 dated 20th May, 2018 for the profile of Marketing Executive and the subsequent interview which was conducted on 10th June, 2018.
We are elated to inform you that you have been selected for the profile of Marketing Executive with K.P. Technologies and I welcome you abroad on behalf of our Company. Please find enclosed the Appointment Letter with this email for the same. You are requested to kindly sign the duplicate copy of this enclosed Appointment Letter and send it back as a confirmation of acceptance of appointment from your side.
We shall keep you posted of the further formalities once we have received the signed copy of Appointment Letter from you. In case of any clarity, please feel free to write us back on the same email id.
Wishing you all the best.
Sincerely,
Radhika Sharma
Human Resource Manager
Other Related offer Letter
Appointment Letter for Commission Based Agent
Many companies appoint their commission based agents who act as the link between the vendors and the buyers.
How to ask for Offer Letter by Email
Offer letter is a formal confirmation that you have received the job and it always makes you happy. If you have received an offer letter then your appointment letter will soon follow it.
Search Sample Formats:
Apology letters are extremely important in a professional setting because they help you have sound formal relationships with your clients and business associates when your employees or your Company has mistakenly committed some errors. We must accept that we cannot always promise the best of the services or products and therefore, we must always be humble to write apology letter for bad service or for delay in service. By writing apology letter to customer for poor service, we cannot make an unsatisfied client happy but we can always reduce the intensity of his dissatisfaction. Writing Apology Letter for Being Late for Work also helps you have good terms with your boss.
We have come up with an apology letter to client for poor performance. Use this sample template to write a personalized letter to your customer.
Sample Apology Letter to Client for Poor Performance
From
R.K. Sharma
Manager,
Advent Mechanics Pvt. Ltd.
Mumbai
Date: 26.05.2018
To,
Vinod Khatri
The Manager
Hindustan Medicines Pvt. Ltd.
Mumbai
Dear Mr. Khatri,
I hope this letter of mine finds you in the best of your health and spirits.
You are a very valued client of our Company and we share a strong association of last so many years. All the transactions in the past were in perfect synch with our terms and conditions until the recent one.
I was in deep shock when I received a complaint from your end for unacceptable performance by our production department. After closely studying the issue you were facing, I myself supervised the who situation and found out that the reason behind this issue was the machine which is used for creating the particular part that is fitted in the apparatus is not working properly and is causing the functional issues. I am extremely sorry on behalf of my production department who should have taken care of this problem and addressed it to ensure smooth product delivery.
I have removed the staff responsible for taking care of the machine and I am in deep regrets for causing all the inconvenience to you.
I would again submit my heartfelt apologies on this situation and would request you to please accept them. I will ensure that no such issues surface in future transactions and we have a healthy association.
Thanking you
Sincerely,
R.K. Sharma
Manager,
Advent Mechanics Pvt. Ltd.
Mumbai
Click here to Download Apology Letter to client for poor performance in Word Format
Other Related of Apology Letters
Search Sample Formats:
Business appointments are to be taken very seriously. And in case you have to cancel a business meeting because of some unavoidable circumstances then in that case you must inform your associate or client about the same and also write an apology letter for cancellation of meeting. White writing a meeting cancellation notice, you can also mention about rescheduling the meeting to another day. It is always good to submit your apologies in a formal setup to avoid any bad experience. Writing an Apology Letter due to Poor Performance to Client is also another form of apology letter companies require to write.
Given below is a sample apology letter for cancellation of business meeting. Use this format for creating a personalized letter that fits your situation.
Sample Apology Letter for Meeting Cancellation
From
R.K. Sharma
Manager,
Advent Medicines Ltd.
Mumbai
Date: 21.05.2018
To,
Vinod Khatri
The Manager
Hindustan Marketing Pvt. Ltd.
Mumbai
Sub: Cancellation of Business Meeting
Dear Mr. Khatri,
I am writing this letter to inform you that I will have to cancel the meeting scheduled for Monday, 25st May, 2018 at 12 p.m.
I had to cancel this appointment because of an emergency situation at our Delhi branch office which requires me to immediately fly there and take charge of the situation. I was looking forward for this meeting and would be extremely honoured if you could give me a mutually agreeable date and time so that we can reschedule the meeting and take things forward. Please let me know if we can reschedule the meeting on 30th May, 2018 at 12 p.m. and if not then please suggest the best time from your end.
Please accept my apologies for cancelling our meeting and also for the inconvenience cause to you. I will be waiting for your response and will look forward to meet you soon.
Thanking in anticipation.
Sincerely,
R.K. Sharma
Manager,
Advent Medicines Ltd.
Click here to Download Apology Letter for Cancellation of Business Meeting format in word
Other Related of Apology Letters
Search Sample Formats:
Schools, colleges, companies and various other organizations organize formal party for their staff members. They therefore send formal dinner invitation invites which have complete details about the date, time, venue and occasion. These kinds of letters are often called company annual dinner announcement memo or invitation letter for Annual staff party. Being the HR Manager of your company, it is your duty to send company annual dinner invitation letters to staff members and colleagues. These days office party invitation emails are in trend and therefore, you can also send dinner invitation email to your colleagues.
Given below is a sample format of Company's Annual Dinner Invitation Email to Staff in MS Word format. You can download this letter and use it as per your requirement.
Sample for Company's Annual Dinner Invitation Email to Staff
Date: 18.05.18
Dear Staff Members,
Greetings!!!
Congratulations on successfully completing another financial year. It is because of the hard work and dedication of all our employees that we could manage to complete all our projects within the designated time bars and also start with various new projects which will take our organization to new heights.
At, K. P. Technologies, we consider our staff as our family and that's why every year, we organize an Annual Gala Dinner for all our staff members along with their families as a time of celebration. All of you come with our families and enjoy this annual dinner with your colleagues, seniors, juniors and the Management. This is a way of connecting with our staff on a personal level and also have their families introduced to each other.
Please consider this email a formal invitation extended to you and to your family for Annual Gala Dinner 2018. Here are the details of the same:
Date: 26th May, 2018
Venue: K.P. Technologies Head Office
Timings: 8.00 p.m. onwards
We would be waiting to welcome you all with your families and enjoy this event like a big family. Let us take a break from work and spend some quality time with each other.
Regards,
Anirudh Sharma
General Manager
K. P. Technologies
Other Related Invitation Letter
Office New Year Party Invitation Letter to Employees
Search Sample Formats:
If you have terminated an employee from your company then the same must be communicated to the other staff members of your company. You have to make employee termination announcement to clients and company staff so that they keep no professional connect with him or her. It is a simple letter informing about employee leaving company.
Have a look at termination letter format. You can use this termination communication letter to staff template to formally inform everyone about the employee leaving the company.
Letter Communicating Employee Termination to Staff Members
Date: 08.05.2018
Dear Staff Members,
The Management wants to inform you all that Mr. Vipul Chawla who was working with Princeton Hotel at the position of HR Executive has been terminated on 07.08.2018. As per the policy of the Company, from now on, no employee of the Company shall have any professional connections with Mr. Chawla. Sharing of any confidential information of the Company with him will be considered as a criminal offense and serious actions will be taken against the offender.
Mr.Chawla was found to violating the rules of the Company. Despite constant warnings, he continued reporting to work late. His performance levels have also been below average since his date of joining.
Princeton Hotel is known for its disciplined staff. We always hire people who can work in synergy with us and grow along with us.
Regards,
Ravindra Gupta
Manager,
Princeton Hotel
Click Here to Download Letter Inform Staff of Employee Termination in word Format
Other Related Post to Termination Letters
Voluntary Termination Letter to Employee
Employment Contract Termination Letter
Sample Early Probation Termination Letter
Job Abandonment Termination Letter Sample
Sample Wrongful Termination Letter To Employer
Employee Termination Letter Due to Poor Performance
Sample Employee Termination Letter for Theft
Search Sample Formats: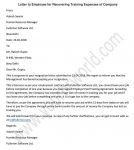 There are lots of companies which spend a huge sum on the training of their employees. The idea is to give them the best of the training so that they are able to do their job in a better way and help the company grow. Companies often go with training agreements or employer paid training agreements to reduce the risk of employees leaving the job before completing the first year. If one of your company leaves the job before completing his first year then Company can always write him a letter asking him for repayment of training costs because of the loss incurred to the Company.
Being the HR or Manager of your Company, if you don't know how to frame a letter to your employee for recovering the training expenses then here is a sample format for the same.
From:
Adarsh Swami
Human Resource Manager
Fullerton Software Ltd.
New Delhi
Date: 24.04.2018
To:
Mr. Rakesh Gupta
B-490, Western Plaza
New Delhi
Dear Mr. Gupta,
This is response to your resignation letter submitted on 23.04.2018. We regret to inform you that the Management has denied accepting your resignation.
This is because as per your employment contract with Fullerton Software Ltd., you cannot leave your job before completion of one year because you have signed Employer Paid Training Agreement. According to this agreement, the Company has invested a huge sum of money in training you for your job and if you leave your job before completing one year, it is a huge loss to the company.
Therefore, as per the agreement, you will have to resume your job within 15 days from today or you will have to pay the Company through online bank transfer the amount of money the Company has lost on training you.
We will look forward for your response. In case of any further clarifications, you can get in touch with us at hr@fullerton.com.
Regards,
Adarsh Swami
Human Resource Manager
Fullerton Software Ltd.
You can download Letter to Employee for Recovering Training Expenses of Company in word formats.
Click here other Employee Related Letter
Search Sample Formats:
If you have some personal work to do during office or college hours then you can always seek permission by writing half day leave application email. You can simple drop in a half day leave email to your boss, principal or manager stating the reason and date on which you need to take half day. There is half day leave mail for urgent work, personal reasons, not feeling well or family function. There are also applications for urgent work for students. It is quite a simple email which is very short and to the point.
To help you frame a customized half day leave application email, given below is a template format which you can follow to write you own mail.
Half Day Leave Application Email 
Dear Sir,
The purpose of writing this email is to submit my request for half day leave for today. I will be available at work till 12 p.m. today as I have an appointment with a lawyer for some family property issue. It is an urgent meeting and I cannot reschedule it.
Therefore, I request you to please approve my half day leave application. I will be extremely thankful to you for considering my application.
Sincerely,
Varun Sachdev
Sales Executive,
Feather Fabrics Pvt. Ltd.
You can download a Half Day Leave Application Email Sample in word formats.
Frame your own proficient Announcement Letter Format for Discontinuing Special Leave
Write a formal Permission Letter to Leave Office Early to your boss.
Thank You Letter for Leave Approval to your manager for considering your application.
Easy to download and customize Letter format for half day leave for employee
Search Sample Formats:
Sometimes you have an important work to do and for that you need to take some hours off from work or your classes. There is an urgent work on personal front or illness or any other reason at work, school, college or internship. In that scenario, writing a formal half day leave application is the right thing to do. Such holiday declaration letters are very short and include the reason for absence along with the duration for which you want to apply for the leave.
Given below is a sample letter format for writing a perfect half day leave application for office, school, college or university, internship. Use this template to write your own half day leave letter.
Useful Tips to Write Half Day Leave Application
Given below are some helpful tips to write a flawless half day leave application.:
The format of the letter should be formal
Keep the tone of the letter polite
Clearly state the reason for half day leave in your application
Don't forget to include the date on which you want half day off
Always check for grammar and spelling mistakes before submitting your letter
Make sure that the reason is genuine
Sample Letter Format for Half Day Leave for Staff
From
Ramesh Agarwal
52, Western Plaza
Mumbai
Date: 07.04.2018
To,
The HR Manager
Hindustan Tools Pvt. Ltd.
Mumbai
Sub: Half Day Leave Application
Respected Sir,
I would like to apply for half day for tomorrow i.e. 09.04.2018 as I have doctor's appointment for my mother. My mother has not been keeping well and there is no one else to take her to doctor. Therefore, I request you to please grant me half day leave after 1 p.m. tomorrow so that I can take her to the hospital.
Thanking in anticipation.
Sincerely,
Ramesh Agarwal
Senior Marketing Executive
Hindustan Tools Pvt. Ltd.
Click Here to Download Half Day Leave Application Format in Word
Other Related Letter Formats
Search Sample Formats:
Supervisor is the person who knows the best about the performance of the employee. But it is not an easy job to gauge the performance. Supervisor has to be very smart at measuring the performance. He should know how to differentiate between performances. And if the employee has delivered exceptionally amazing performance, a thank you letter from the supervisor to the employee is the most special way of recognizing the efforts. But not all organizations think the same way. One school of thought suggests of acknowledging the efforts with a thank you letter to employee. Whereas the other school of thought doesn't find thank letters important. It says that it is the responsibility of the employee to do the job right and therefore, writing a thank you letter is not needed.
But a thank you letter from supervisor is a strong tool which not only recognizes the efforts but also works as the tool for the supervisor to communicate actions he wants to put forward.
Given below is the sample employee thank you letter from supervisor to help you frame your own.
Employee Thank You Letter Format
Date: 27.03.18
Dear Rohan,
I am writing this note to thank you for showing your initiative in completing the project on time by doing overtime for all this month. I appreciate your efforts as you did not take any leave this month, especially when summer vacations of children are going on and it is family holiday time for everyone.
It was because of your dedication that we could meet the deadline of our project as lots of people from our team were on leave. You took all the responsibility of managing everything and made sure that there are no delays.
You support during this project was exceptional and I cannot do enough to express my gratitude to you. I have enclosed with this letter a gift card of Rs. 2000 with this letter which can be used at different eateries across the city.
Thanks once again for being there for the company when it was needed the most.
Regards,
Vinod
Click Here to Download Employee Thank You Letter From Supervisor in Word Format
Other Related Thank You Letter
Thank You Letter for Leave Approval Sample
When an employee joins an organization, he is given a certain designation to perform his role. Over a period of time, if he is performing well and additional responsibilities are given, he may be given a change of designation.
How to Write a Thank You Letter to a Boss for a Promotion
If your boss has responded to your intent for promotion in a positive way then it is a good gesture to write a formal thank you letter expressing your happiness and gratitude on his decision.
10 Things To Keep Out of An Interview Thank You Letter
Once you are done with a job interview, it is time to send a formal Thank You email or letter. But you can actually hamper your performance if you include certain things in your letter which should be avoided.
Thank you Letter for Gift from Company
A gift always makes you feel special. If you have received a gift from some company then writing a business thank you letter is a sweet gesture.
Search Sample Formats: