Letters
If you have some personal work to do during office or college hours then you can always seek permission by writing half day leave application email. You can simple drop in a half day leave email to your boss, principal or manager stating the reason and date on which you need to take half day. There is half day leave mail for urgent work, personal reasons, not feeling well or family function. There are also applications for urgent work for students. It is quite a simple email which is very short and to the point.
To help you frame a customized half day leave application email, given below is a template format which you can follow to write you own mail.
Half Day Leave Application Email 
Dear Sir,
The purpose of writing this email is to submit my request for half day leave for today. I will be available at work till 12 p.m. today as I have an appointment with a lawyer for some family property issue. It is an urgent meeting and I cannot reschedule it.
Therefore, I request you to please approve my half day leave application. I will be extremely thankful to you for considering my application.
Sincerely,
Varun Sachdev
Sales Executive,
Feather Fabrics Pvt. Ltd.
You can download a Half Day Leave Application Email Sample in word formats.
Frame your own proficient Announcement Letter Format for Discontinuing Special Leave
Write a formal Permission Letter to Leave Office Early to your boss.
Thank You Letter for Leave Approval to your manager for considering your application.
Easy to download and customize Letter format for half day leave for employee
Search Sample Formats:
Sometimes you have an important work to do and for that you need to take some hours off from work or your classes. There is an urgent work on personal front or illness or any other reason at work, school, college or internship. In that scenario, writing a formal half day leave application is the right thing to do. Such holiday declaration letters are very short and include the reason for absence along with the duration for which you want to apply for the leave.
Given below is a sample letter format for writing a perfect half day leave application for office, school, college or university, internship. Use this template to write your own half day leave letter.
Useful Tips to Write Half Day Leave Application
Given below are some helpful tips to write a flawless half day leave application.:
The format of the letter should be formal
Keep the tone of the letter polite
Clearly state the reason for half day leave in your application
Don't forget to include the date on which you want half day off
Always check for grammar and spelling mistakes before submitting your letter
Make sure that the reason is genuine
Sample Letter Format for Half Day Leave for Staff
From
Ramesh Agarwal
52, Western Plaza
Mumbai
Date: 07.04.2018
To,
The HR Manager
Hindustan Tools Pvt. Ltd.
Mumbai
Sub: Half Day Leave Application
Respected Sir,
I would like to apply for half day for tomorrow i.e. 09.04.2018 as I have doctor's appointment for my mother. My mother has not been keeping well and there is no one else to take her to doctor. Therefore, I request you to please grant me half day leave after 1 p.m. tomorrow so that I can take her to the hospital.
Thanking in anticipation.
Sincerely,
Ramesh Agarwal
Senior Marketing Executive
Hindustan Tools Pvt. Ltd.
Click Here to Download Half Day Leave Application Format in Word
Other Related Letter Formats
Search Sample Formats:
Supervisor is the person who knows the best about the performance of the employee. But it is not an easy job to gauge the performance. Supervisor has to be very smart at measuring the performance. He should know how to differentiate between performances. And if the employee has delivered exceptionally amazing performance, a thank you letter from the supervisor to the employee is the most special way of recognizing the efforts. But not all organizations think the same way. One school of thought suggests of acknowledging the efforts with a thank you letter to employee. Whereas the other school of thought doesn't find thank letters important. It says that it is the responsibility of the employee to do the job right and therefore, writing a thank you letter is not needed.
But a thank you letter from supervisor is a strong tool which not only recognizes the efforts but also works as the tool for the supervisor to communicate actions he wants to put forward.
Given below is the sample employee thank you letter from supervisor to help you frame your own.
Employee Thank You Letter Format
Date: 27.03.18
Dear Rohan,
I am writing this note to thank you for showing your initiative in completing the project on time by doing overtime for all this month. I appreciate your efforts as you did not take any leave this month, especially when summer vacations of children are going on and it is family holiday time for everyone.
It was because of your dedication that we could meet the deadline of our project as lots of people from our team were on leave. You took all the responsibility of managing everything and made sure that there are no delays.
You support during this project was exceptional and I cannot do enough to express my gratitude to you. I have enclosed with this letter a gift card of Rs. 2000 with this letter which can be used at different eateries across the city.
Thanks once again for being there for the company when it was needed the most.
Regards,
Vinod
Click Here to Download Employee Thank You Letter From Supervisor in Word Format
Thank You Letter for Leave Approval Sample
When an employee joins an organization, he is given a certain designation to perform his role. Over a period of time, if he is performing well and additional responsibilities are given, he may be given a change of designation.
How to Write a Thank You Letter to a Boss for a Promotion
If your boss has responded to your intent for promotion in a positive way then it is a good gesture to write a formal thank you letter expressing your happiness and gratitude on his decision.
10 Things To Keep Out of An Interview Thank You Letter
Once you are done with a job interview, it is time to send a formal Thank You email or letter. But you can actually hamper your performance if you include certain things in your letter which should be avoided.
Search Sample Formats: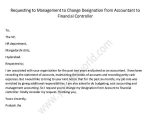 When an employee joins an organization, he is given a certain designation to perform his role. Over a period of time, if he is performing well and additional responsibilities are given, he may be given a change of designation. This change of designation may or may not result in a hike in salary or a promotion. It could be for the convenience of management or the employee because he is performing more roles than previously decided. This change in designation could make his role more clearly understood by him, and bring more clarity to the management, and to others who are working with him.
Request For Change In Designation Letter Format
To,
The VP,
HR department,
Margadarshi chits,
Hyderabad.
Respected sir,
I am associated with your organization for the past two years and joined as an accountant. I have been recording the statement of accounts, maintaining the books of accounts and recording petty cash expenses. But I would like to bring to your kind notice that for the past six months, my job role was enriched by giving additional responsibilities. I am also asked to do budgeting, cost accounting and management accounting. So I request you to change my designation from Account to financial controller. Kindly consider my request. Thanking you,
Yours sincerely,
Prakash Jha
Click here to Download Request For Change In Designation Letter Format in Word
Search Sample Formats:
A letter format for intimating the workers that Sunday is a working day is issued when the workers are asked to work for some important reasons. If any working day was declared as a holiday due to political reasons, weather reasons or any other reason, and there is an important task or work or project that has to be completed within a strict deadline, then the workers will be asked to work on a Sunday. We have given a sample letter below asking the workers to work on a Sunday. You can use this sample and customize it accordingly.
Dear workers,
We are all working on a critical project very hard to make it a success. The project completion date is coming soon. All of you are doing a great job on the job. Unfortunately, our office had to remain closed due to national bandh called by a national political party which caused hindrance in our operations and our work on last Tuesday.
We had to adhere to the government and close the office premise. But as you all know, we cannot go back on our deadline of project completion with our client. Keeping all these factors in mind, we have decided to work on this Sunday to compensate for the Tuesday holiday. This might upset your weekend plans. Lease bear with us. Hope to receive your support on work this Sunday.
Regards,
Madhavi
HR Department
Click here download Letter for Intimating the Workers that Sunday is a Working Day in PDF Format
Search Sample Formats:
Within the corporate understanding, contracts or agreements are said to be documentary notations required by officials to decide over specified working terms and conditions. The contractual agreements are created for a specific time period and needs renewal or expiry after that time slot. This is the reason that professionals make sure to communicate about the continuation or termination of the contract through proper emails or letters. This tends to be an amicable way of communicating business necessities to the other person for sure. Here is the format of the letter, which informs about unwillingness to continue with a company or particular profession on completion of the contract.
Date: February 27, 2018
To,
Mr. Shailesh Malik,
Employee No: 2486
Sub: Non-renewal of the term contract
Dear Mr. Shailesh,
This letter is in reference to your contract with our company, Adroit Web Solutions Pvt. Ltd. We entered into a term contract for the requisite services from your end, which initiated on February 27, 2018 and terminates on February 28, 2019. As the respective contract is about to finish, the administrative decisions are explication of the fact that the company does not wish to continue with your high-end services. It is just a corporate decision taken by higher authorities without any negative intentions.
As a part of compensation, you will be paid till the last date of the contract as full and final settlement. Therefore, you are requested to handover the company laptop and mobile to the HR Manager and get clearance from the departments. On submission of the clearance details, you will be provided with a certificate on your last working day. Along with this, you will be given an experience certificate with details description of the responsibilities handled at Adroit Web Solutions Pvt. Ltd. This will help you in getting excellent opportunities and open ways for more job prospects.
The end of the contract does not mean that your journey to success has halted. In fact, this will make you progress on the path of brighter future. Though, the contract between you and our company has come to an end; still, we have retained your contact details in our record bank. As the requirement of the company persists in near future, we might contact you again for your valuable services. We wish you all the best in life and a prosperous career ahead.
Thanks,
Shreya Bansal
HR Manager
Click here to download Contract Completion and Not Continue Further Letter Format in Word
Search Sample Formats:
Writing a letter has become old fashioned style of communication. It is still a good practice to express a token of gratitude and appreciation for a good work done or an achievement. A letter of appreciation format should mention the specific accomplishment of the person, how it impacted the overall business and the time frame of the accomplishment. It should mention about the excellence performance of the person, and how the person had exceeded expectations.
Express a sincere gratitude to the staff for the significant hard work Appreciate his/her efforts and specific skills used. Acknowledge the help and support extended by the employee.
Ask for suggestions from the employee for the improvement in organization structure, and make him feel important. Value his ideas.
Give your employee a small gift as a token of appreciation along with the letter. The cost and value of the gift does not matter.
After drafting the letter, check for spelling mistakes and grammatical mistakes. It's nice to send a neatly drafted letter, with a nice warm message.
Sample Thank You Letter to Employees for Hard Work
Siddhartha Priyadarshi
Project Manager,
Deloitte LLP,
Mind Space, Hi-Tech city,
Hyderabad
Rohit Mehta
Business Analyst,
Deloitte LLP,
Mind Space, Hi-Tech city,
Hyderabad
Dear Mr. Rohit,
I would like to thank you heart fully for the excellent performance on the Blue Fusion project. Your dedication and your hard-work on the project to make it successful is commendable. We could finish the project within the deadline (February 09, 2018) despite of the challenges faces because of your contribution to resolve the critical bugs.
As a gesture of appreciation, you are given an increment in salary which will reflect in your appraisal cycle and also paid holiday for a week. You may avail the leave at your convenience. The human resource department is communicated and will assist you in availing your paid leaves.
Thank you again for your hard work and extra time of the project Blue Fusion. We expect continued support from you in future projects. All the best.
Best Wishes and Regards,
Yours Sincerely,
Siddhartha Priyadarshi
Click Here to Download Thank you Letter to Employees for Hard Work in Word Format
Thank You Letter from Supervisor to Employee
Supervisor is the person who knows the best about the performance of the employee. But it is not an easy job to gauge the performance. Supervisor has to be very smart at measuring the performance.
Search Sample Formats:
It is vital for every company to put on notice board about the public holidays and specified working hours. This should contain detailed information of weekly holidays and the dates of public holidays. The purpose of putting a circular on notice board is to inform employees well in advance about the possible leaves available. With changing scenarios and technology, holiday declaration mail to employees is sent. It includes information about public holidays including festivals and other notable events. In fact, it is a government notice to the employees of public enterprises for the holidays. Basically, holiday notice email has all the listed paid leaves in the next year that inform professionals about customary practices. Below is the circular for declaring holiday format, which states about requisite language to be used and information to be included.
                                                                                                                  Dated: January, 1st, 2018
Notice / Circular
This notice is in liaison with the forthcoming 50 years celebrations of our enterprise organized on December 30th, 2017. It will be followed by a long weekend off from Friday (December 24th) to Sunday (December 31st). The staff is requested to attend office hours prior to celebrations without any absence. The function with notify authorities for their hard work and award excelling employees in their respective departments.
The personnel deputed on emergency service basis will be serving the company as directed within the long weekend off. There shall be no change in the work plans for them. To avail the facility of the holidays, employees are requested to maintain their attendance register authentically.
At the completion of the holidays, employees are requested to be present in the office from Monday onwards i.e. January 2nd, 2018.
This letter for holiday announcement is intended towards informing company employees to be prepared for a "Gala Event" that will unleash the potential of our company in maintaining their market goodwill effectively.
Congratulations and Thank You Everyone for Contributing to the Success of Our Enterprise!
Regards,
Mohit Aggarwal,
Senior HR Manager
Click Here to Download Sample of Circular for Public Holiday In Word Format 
Letter Format for Intimating the Workers that Sunday is a Working Day
Search Sample Formats:
Canteen in a company premises have been part of formal as well as informal discussions over coffee, tea or snacks. Employees get to spend a casual time in the premises, which is good for the enhancement of cognitive power. As known, the food quality of canteen is always delectable.  In fact, the circular put on the notice board is meant to inform employees about the increased rates of varied food items available in the canteen. The increased rates are a resultant of GST taxes over the purchase of raw materials used to cook a meal. Though, the rates are increased; they have been decided in conjunction with the authoritative permission of the company heads. Under mentioned is the circular format for employees informing about increased rates of canteen food products.
Dated: December 23th, 2017
Notice / Circular
This circular for change in canteen rates is meant to inform the employees that the food items in the canteen menu have been slightly increased. Such a decision has been taken by the canteen manager and administrative authorities by keeping in mind increased prices of raw materials and other products used for cooking meals in the canteen. The new rates for food items are subject to change from December 26, 2017. Along with this, every bill will have CGST and SGST levied on the total price.
We hope that the company employees will be supportive in the decision because of the hike in prices of vegetables and materials. For the updated rates, the employees can consult with the canteen manager and check the new menu that will be available in the canteen premises from day after tomorrow onwards.
Thank you very much in advance for your co-operation and taking the administrative decision in a favorable manner.
Regards,
Rajesh Khandelwal
Admin Head
Click Here to Download Company Canteen Rates Hike Circular to Employee in Word Format
Search Sample Formats:
Promotions and bonuses are always a welcome note for the employees. It is the answer to their sheer hard work that has been put in the work procedures to add growth blocks to the company. The information of bonuses or incentives calculated for the employees is communicated to them through official company bonus letter that has the detailed information about reasons for incentive or bonuses and the amount. Certainly, giving bonus to the company from time to time will keep the employees motivated for enhanced performance in every sector. It is not about giving money to the employees; rather, the purpose of bonuses is to appreciate the work done by the employees and adding to the overall progress of the company.  Under mentioned is the performance incentive letter format, which will allow you to draft a valuable message to employees.
To,
Head of Marketing and Finance Department,
Creative Info Solutions Pvt Ltd
Sector 63, Noida, Uttar Pradesh
Dated: November 30th, 2017
Subject: Informing about the incentives for team members
Dear Sir,
We would like to inform you that the Marketing as well as Finance departments of our company have performed exceedingly well in the last quarter of their work. Apart from completing targets well on time, all of the team members have exceeded the targets too. Of course, the credit goes to effectual team management skills of the Head of the Departments and sheer hard work of employees. It is their willingness to excel on the work front that has made it essential for the company to reward them with valuable incentives. The calculated incentives are on the flat 20 percent of the total monthly salary. The incentives decided for each team member of these two departments is as per Bonus or Incentive Plan Payment Letter template are:
Marketing Team:
Karan: Rs. 4000 (20000 PM)
Sheetal: Rs. 3200 (16000 PM)
Rajesh: Rs. 3200 (16000 PM)
Manisha: Rs. 3000 (15000 PM)
Finance Team:
Neha: Rs. 6000 (30000 PM)
Mehar: Rs. 5000 (25000 PM)
Mehul: Rs. 5000 (25000 PM)
In the end, I would like to congratulate all of them on behalf of the company authorities for excelling in their performance. We wish that they keep up with the progressive nature at work front and strive to excel always.
Thanks and Regards,
Mohini Aggarwal
Senior HR Manager
Click here to download Incentive letter or bonus for top performers in Word Format
Search Sample Formats: