Letters
Companies issues different things to their employees which are required by them to work hassle-free. While issuing things like laptops, mobile phones etc., companies write a formal letter of assets stating everything that the company is issuing to the employee along with terms and conditions for the same.
Given below is a format for letter of assets for issuing laptop, mobile phone etc. which you can use for creating a personalized letter.
Format of Letter of Assets for Issuing Laptop, Mobile Phone and SIM
From:
Smita Singhal
HR Manager
Sinha Group of Companies
52 Gulmohar Lane
Delhi
Date: 26.05.2017
To,
Amit Tandon
H-52/A, Welengkar Apartments
Greater Kailash
Delhi
Dear Amit,
We would like to inform you that for the position you have joined Sinha Group of Companies, the management has decided to provide you with a laptop, a mobile phone and a SIM which comes under group connection of the company.
As per the Company's policy, the designation on which you have joined, allows us to issue you with a Moto Xplay handset and a Dell laptop. We would further like to inform you that the company will bear only the rental cost of the mobile phone. In case of exceeding the limits, the payments will be debited from your salary.
We would like to share with you that you will be responsible for taking care of the handset and the laptop. In case of loss or damage, you will be responsible for the replacement.  And when you will leave the company then you will be required to return the laptop, the mobile phone and the SIM card that the Company is issuing to you to the HR department.
Sincerely,
Smita Singhal
HR Manager
Sinha Group of Companies
Click Here To Download Need Issuing letter format for Laptop, Mobile phone and sim
Search Sample Formats:
If you have applied for loan in some private bank then you might be asked to submit experience letter with your previous employer or employment letter from your employer. It is subjective to bank and to your situation that what kind of document the bank might ask for. To help you with experience letter samples, we have come up with experience certificate format to help you create your own. Such letters are very specific in content and purpose.
Here is an experience letter format to submit to private bank for loan. Customize it and use it as per your requirement.
Experience Letter Format for Loan From Private Bank
06th April, 2017
TO WHOMOSEVER IT MAY CONCERN
This is to certify that Mr. Arun Gupta S/o Mr. Ramnarayan Gupta, resident of Jawahar Nager, Delhi, has served with Technocrat Solutions Pvt. Ltd. as Marketing Manager for a period of approximately four years starting from 1st June, 2013 to 31st March, 2017.
He has been a very committed and dedicated employee for all these years. He has always impressed us with his performance. He is extremely loyal and very much focused with this duties and responsibilities.
We wish him success in all his future endeavors.
Raghu Mathur
Manager,
Human Resource
Technocrat Solutions Pvt. Ltd
Click Here to Download Experience Letter Format for Loan From Private Bank
Search Sample Formats: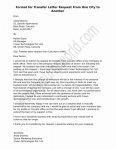 If you wish to move from one place to another and you don't want to leave your present company then you can always write a transfer letter to the HR Manager submitting your job transfer request letter for personal reason. This is a formal way of submitting your request by stating reasons because of which you are writing letter of request for transfer of workplace. Such letters are very much to the point and help you explain your part with no room for confusion.
We have a job transfer request letter example. Use this sample transfer letter format from one place to another to submit to your HR.
Format for Transfer Letter Request From One City to Another
From
Anita Sharma
52, Gandhi Apartments
Bose Road
Calcutta
Date: 14.04.2017
To,
Rohini Goyal
HR Manager
Crown Technologies Pvt. Ltd.
89, Simon Plaza
Calcutta
Sub: Transfer letter request from Calcutta to Delhi.
Dear Rohini,
I would like to submit my request for transfer from Calcutta office of our Company to Delhi office. There are a few personal reasons because of which I am initiating this request. My husband has been transferred to Delhi and that's the reason I am putting up this request. I have been associated with Crown Technologies Pvt. Ltd. from last five years and I have had an amazing work experience and I would not want to discontinue it.
I strongly feel that this change of workplace will be in the interest of my personal life and also the Company as it will save my time traveling to Delhi to meet my husband and I will be able to focus better on my duties and responsibilities. I feel that instead of leaving the company, just with a change of city, I can still be a part of this prestigious organization.
For all these years, you have seen my performance and the growth that I have achieved with the guidance of seniors and my dedication. I would be very interested in continuing working with Crown Technologies Pvt. Ltd. and contributing in the growth.
I would be extremely happy if we can work out on a solution that is mutually beneficial to the company and me. I would be glad to assist and train someone else for my profile in Calcutta office so that the work doesn't get affected. I promise to extend the best of my support in this.
I have had a wonderful journey with amazing experience and I would love to continue that for longer.
I thank you for considering my request. I would be waiting for your response.
Sincerely,
Anita Sharma
Senior Marketing Executive
Crown Technologies Pvt. Ltd.
Click Here to Download Request Transfer Letter From One Place TO Another
Search Sample Formats: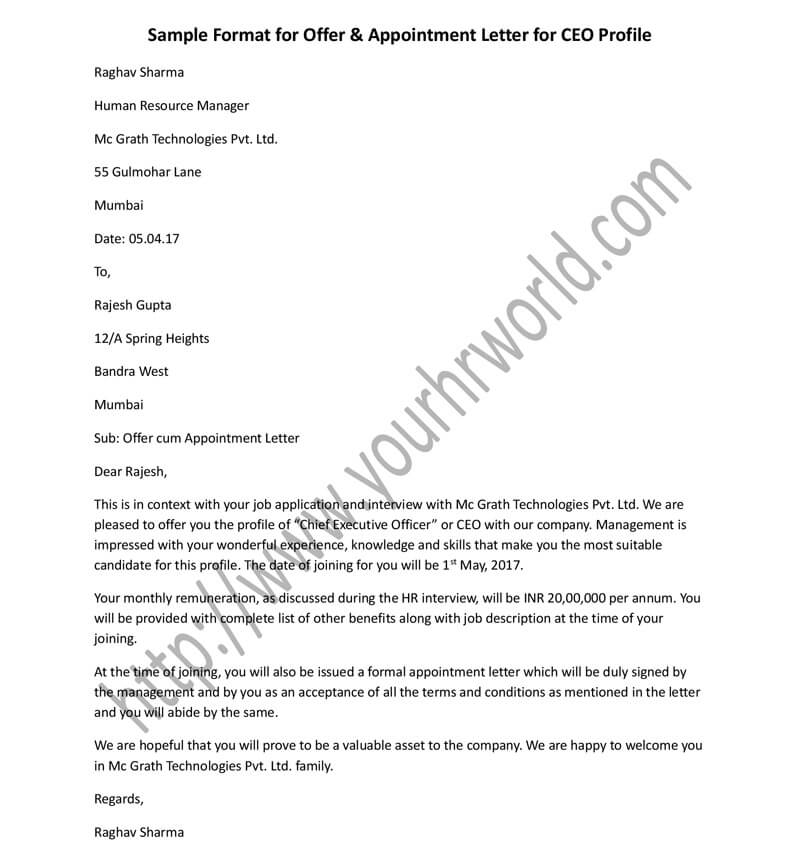 The idea behind sending an Offer letter or an Appointment letter is to communicate to the selected candidate the offer that has been made along with terms and conditions for appointment in a professional way. If you have appointed a CEO in your company then you must communicate the same to the selected candidate via offer and appointment letter which contains all essential details in relation with this appointment.
We bring to you a sample format for offer and appointment order letter for CEO using which you can create a customized letter without missing on anything important.
Sample Format for Offer & Appointment Letter for CEO Profile
Raghav Sharma
Human Resource Manager
Mc Grath Technologies Pvt. Ltd.
55 Gulmohar Lane
Mumbai
Date: 05.04.17
To,
Rajesh Gupta
12/A Spring Heights
Bandra West
Mumbai
Sub: Offer cum Appointment Letter
Dear Rajesh,
This is in context with your job application and interview with Mc Grath Technologies Pvt. Ltd. We are pleased to offer you the profile of "Chief Executive Officer" or CEO with our company. Management is impressed with your wonderful experience, knowledge and skills that make you the most suitable candidate for this profile. The date of joining for you will be 1st May, 2017.
Your monthly remuneration, as discussed during the HR interview, will be INR 20,00,000 per annum. You will be provided with complete list of other benefits along with job description at the time of your joining.
At the time of joining, you will also be issued a formal appointment letter which will be duly signed by the management and by you as an acceptance of all the terms and conditions as mentioned in the letter and you will abide by the same.
We are hopeful that you will prove to be a valuable asset to the company. We are happy to welcome you in Mc Grath Technologies Pvt. Ltd. family.
Regards,
Raghav Sharma
Human Resource Manager
Mc Grath Technologies Pvt. Ltd.
Click Here To Download Offer & Appointment Letter Format for CEO
Search Sample Formats: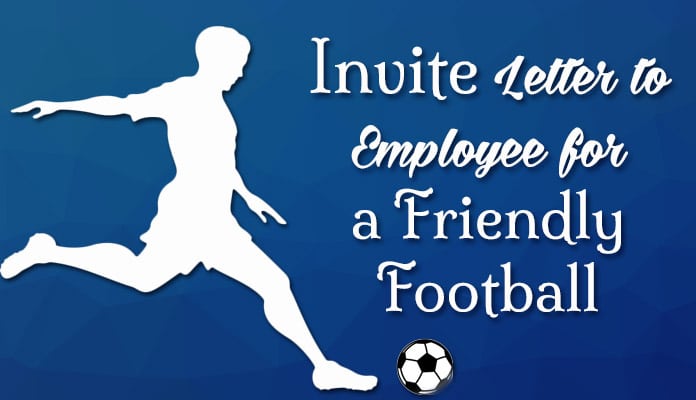 Balancing work with some playful activities works wonderfully well for employees and employers. It is not just a way of de-stressing but also a creative way to become a stronger and healthier group. As a company, if you are planning to organize a cricket match or a football match amongst the employees of you organization then you must send a friendly invite to them inviting them for a fun-filled match. Such invitation letters are quite simple and also very short.
So if you have to frame this kind of an invitation letter for a friendly match, use the sample template for your reference to invite the employees and also their families for this event.
Invitation Letter to Employees for Cricket or Football Match
Dear Employees,
This is an invitation to welcome you all for the friendly cricket match organized to be played between the Marketing Team and HR Team of our company on the Sport's Day event scheduled on the occasion of Republic Day.  Here are complete details of the event:
Date: 09th February, 2017
Venue: Sports Complex, Malviya Nagar, New Delhi
Time: 9 a.m. to 4 p.m.
We would also like to inform you to bring your spouse and children along for this friendly match to enjoy the sports activity followed by lunch to celebrate Republic Day with vigor and high spirits.
Looking forward for your presence.
Regards,
Umesh Sethi
Manager
Regal Cosmetics Pvt. Ltd.
Search Sample Formats:
Corporate has different ways of rewarding and motivating their employees and Employee of the Month is one such way to acknowledge and award the employees who work hard. Employee of the month Nomination letter is a formal way of informing the candidate whose name has been chosen for this category for delivering outstanding performance at work. This is a way of nominating a coworker for an award and it is surely a prestigious nomination. If you don't know how to write a nomination letter to send nomination for your coworker or your team member, we are here to help you.
Here is a sample letter format for employee of the month recognition letter which you can use for creating a customized letter with all the details.
Sample Nomination Letter for Employee of the Month
From:
Richa Gupta
Sales Manager
New Age Technologies Pvt. Ltd.
New Delhi
Date: 20th January, 2017
To,
Mr. Rakesh Jain
Staff Welfare Director
New Age Technologies Pvt. Ltd.
New Delhi
Re: Employee of the Month Nomination
Dear Mr. Jain,
I am writing to submit the nominations for "Employee of the Month" for the month of December 2016 from Sales Department of New Age Technologies Pvt. Ltd. I am extremely happy to nominate Mr. Arun Kumar, a senior sales executive for this award because of his impressive performance.
Mr. Arun Kumar has been associated with our Sales Department from last one and a half year. Within this span, he has been promoted from the post of sales executive to senior sales executive because of his wonderful performance at work.
The reason for nominating Mr. Kumar for this award is his dedication towards his work. I am extremely happy to share with you that in the last month he broke all time sales records of the company with his skills. He has brought to our company a business double his targets which till date no employee has been able to reach. This is quite an achievement and surely needs to be acknowledged and awarded.
We are happy to have him in our company and we surely need more employees like Mr. Kumar who can create benchmarks for others to look up to and never give up. I hope that this nomination will not just motivate him to do better but will also motivate others to work harder and achieve the impossible.
Regards
Richa Gupta
Sales Manager
New Age Technologies Pvt. Ltd.
Search Sample Formats:
With another year about to it, it is surely a party time. If you are planning to organize a year end party for your employees then being an employer or HR manager of your company, you must send official New Year Party invitation 2017 to invite your employees for the celebration. Draft year end party invitation using the sample template that includes all the details about the party.
Given below is an example of New Year office party invitation which you can customize to use it as per your requirement.
Office New Year Party Invitation Example Letter to Employees
From
Devika Gaur
HR Manager
Natural Health Products Pvt. Ltd.
54 Gulmohar Street
New Delhi
Date: 26th December, 2016
To,
Ms. Richa Gupta
12 Pearl Residency Apartments
South Delhi
Dear Ms. Richa,
We invite you and your family to the New Year's Party 2017 organized by Natural Health Products Pvt. Ltd. for all the employees on 31st December, 2016. The venue of the party will be Rajputana Hotels, South Delhi from 8 p.m. onwards.
This party is organized to welcome the New Year with your colleagues who are like your family. This party will be attended by all the board members and the top management to make these celebrations memorable for all of us.
The company is organizing this event as a sincere appreciation to all the employees of the Company who have worked hard in this year and contributed to the success of the organization. This surely called for ending this year with a happy note and beginning the upcoming year with celebrations.
The theme of the party will be retro and therefore, you are requested to please dress according to the theme as there is a surprise price for the "Best Dressed Male" and "Best Dressed Female". Make sure you bring along your spouse and kids to this event.
In case you will not be able to make it to the New Year's Party, please inform Mr. Raghu Dev by 28th December, 2016. You may email him at raghu@natural.com or call him at 123-455678.
We will look forward for your presence to celebrate New Year with you.
Regards,
Devika Gaur
HR Manager
Natural Health Products Pvt. Ltd.
Search Sample Formats:
Award Announcement Letter is a formal declaration of winning an award to tell everyone about the winner. Award write ups for employees' nomination, employee recognition award letter, award announcement letter for company receiving an award are a few different kinds of announcement letters. There are also congratulation letters on winning an award complementing these announcements.
Achieving an award is surely a great moment and when your company is getting awarded, it is a cheerful moment.  If your company has achieved some award then you must write a formal award announcement letter to share this wonderful news with your employees.
Here is a wonderful award letter template which you can use for creating a personalized announcement letter write up keeping this example as base.
Award Announcement Sample Letter
Dear Employees,
As the Chairman of KP Business Solutions Private Limited., it is my pleasure to announce that our company has been awarded with volunteer award for year 2016. This award is given to companies who have met the quality standards set by the government in the industry.
I am proud to share this news with all our employees who have worked very hard to maintain the quality standards of the production. It is because of the combined efforts of each one of our employees that we have managed to achieve this success.
I congratulate all of you on behalf of the company on being a part of efforts made in this direction. To celebrate this proud moment, we shall soon be organizing a celebration. This is just one milestone and we have more such awards to bag.
Congratulations to all and all the best for the journey ahead.
Regards,
Adams Smith
Chairman
KP Business Solutions Pvt. Ltd.
Announcement Letter Format for Discontinuing Special Leave
Sometimes companies announce special leaves but then they sometimes plan to discontinue it for some reasons.
Search Sample Formats:
If you have never written a Character Reference Letter for a job before then surely it is a difficult task for you. It is a big responsibility to write this letter but don't have to get worried as with the right steps, it is quite a sorted process. If you have some basic information handy then you can write a properly framed formal Character Reference Letter for job.
This article rolls out some steps that will make writing this letter a much easier task for you. So before heading to write this letter, read these simple guidelines which can be of great help to you.
1. Talk About Your Background and Relationship With That Person
You must start straight with introducing yourself to the reader. Your name, how are you related to the person for whom you are writing this letter, for how long have you known this person, how did the two of you meet etc. You must include all the information related with the association between you and the person so that the reader has a clear understanding of the relationship.
2. Keep the Format in Mind
As it is a formal letter, so you have to keep in mind the format. In such letters, there have to be three paragraphs. The first one being the introduction which talks about the relationship, the second one in which you will mention the analysis of a person's character and the last paragraph which is the closing paragraph. Follow this format to keep your letter well formed and informed.
3. Keep it Positive
It is very important that your letter leaves the reader with a positive impressive of the person in question. And to do so, you have to provide your honest assessment which talks about personality, goals, conduct, achievements of the person.
4. Check the Tone
The tone of the letter is an integral part of it and must always be checked. You must keep the tone formal and respectful. You have to be honest about what you are writing. If the reader is some person of esteem then you must address him the right way. Nowhere in the letter, your tone should go out of place or else it will completely ruin the impact of your assessment.
5. Know the Reader to Address Correctly
Before you start writing the letter, you must find out who is the person to whom you should be addressing your letter. This is important so that your letter reaches the right person and creates the right impression. Wrongly addressed letters are always a disaster and must be checked.
6. Don't Miss on Checking and Editing
Once the letter has been framed, it must be checked from different aspects to make sure that the letter you have written, meets it purpose to the best possible levels. Once the letter is complete, you must take out some time to read it. Read it to make sure that there are no grammatical errors, spelling mistakes and to ensure that the information that you have mentioned it correct.  Though word processing technology make things a lot easier but never completely depend on technology.
7. Submit a Draft to the Person in Question
Make sure that you send a copy of the same to the person in question because he also needs to know what all information has been included in the letter.
With these points, your letter is complete in every sense.
Search Sample Formats:
If you have received an invitation for attending a meeting then you must reply to the invitation. It is important to respond to the invitation so that the host is aware about your presence or absence. Sending a formal confirmation email for attending meeting is highly recommended as it is the right conduct.
Given below are some steps which must be followed to write a perfect professional email confirming your attendance at the meeting. Use these steps to write your email and you would never go wrong!!!
Always Address it Correct
You must address your email to the right person. Technically, you should write your response to the person from whom you have received the invitation or else any other name mentioned in the invitation for RSVP.
Come Straight to the Point
You must without any delay come straight to the point because of which you are writing this email. If you are attending the meeting then you must confirm your attendance. Do not forget to mention the date and time of the meeting.
Talk About Work, If Any
If you have to carry a report along or make some presentation at the meeting then you must also mention that you will come prepared with the task.
Enclosures, If Any
If you think you are required to send any attachments with the mail, include them in your email and end your letter.
These steps will surely make this task a lot easier for you and you will be able to draft a precise formal confirmation email with perfection.